Committed to Your Long-Term Success
8x8 understands that communications are key to any business, and without them, customers, prospects, partners and internal employees cannot connect and collaborate. 8x8 has built a global network of operations and customer service centers located in Singapore, Australia, Philippines, Romania, the United Kingdom and the United States to provide 24/7 follow-the-sun support.
Our network operations team is constantly monitoring the 8x8 network and proactively deploying preventative changes to ensure voice quality and service availability. The support teams leverage our global team to provide follow-the-sun support for high-business-impact issues. All of this is backed up by our Service Level Agreements for voice quality, system uptime and response time for support requests.
The 8x8 Support Process
Much like deployment, each business has different ongoing support and training needs. 8x8 has tailored support packages providing as much or as little guidance as necessary to fit individual needs.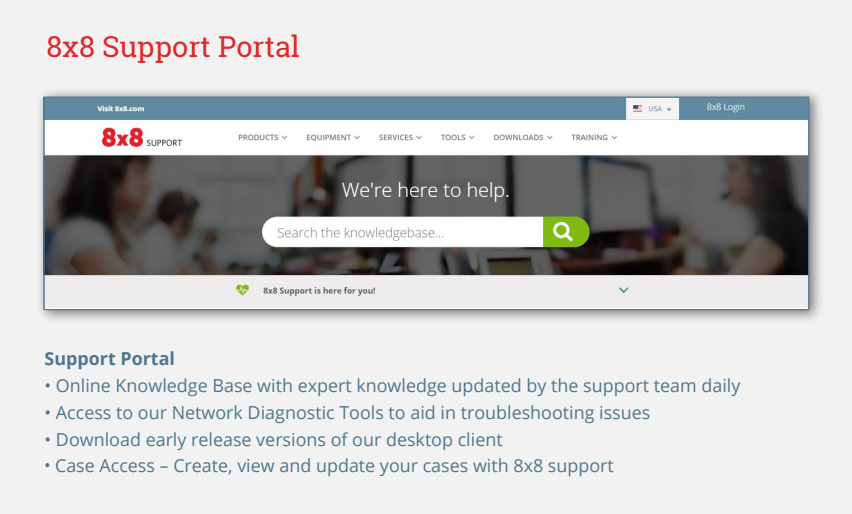 Knowledgebase
All 8x8 customers have access to the 8x8 Knowledgebase for 7/24/365 access to the latest product capabilities and best practices.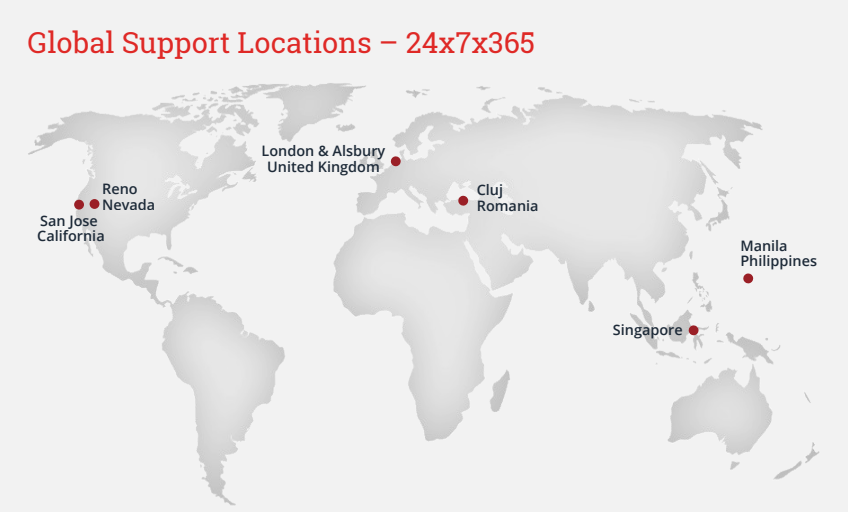 Support
8x8 provides global, follow-the-sun support with 6 support locations around the globe.
• 24/7 Global follow-the-sun Support
• Co-Location with Network Operations Center
• Access the global support team via our portal, chat or phone
Discovery to resolution
To ensure quick resolution to requests and issues, 8x8 uses a support model covering discovery to resolution.

Dedicated to your success
Larger businesses have more complex support needs. For those customers, 8x8 assigns a Dedicated Customer Success Manager (CSM) to support ongoing success.*
• Your advocate within 8x8
• Escalation management: Works with 8x8 stakeholders to drive issue resolution
• Quarterly reviews: Ticket resolution stats, billing, services, etc.
• Feature requests
• New product introductions
Training
To ensure internal support teams are able to support your organization, 8x8 recommends at least one member of your support staff go through the following courses to ensure they can provide the necessary assistance:
• Administrator & Configuration: Learn terminology, features, functionality and methodology to administer Virtual Office. (Virtual training, 7 hours)
• Advanced Topics & Troubleshooting: Gain necessary knowledge and skills to support and troubleshoot Virtual Office solutions. (Virtual training, 7 hours)
• Support Process: Discover how to perform Tier 1 support for an 8x8 Virtual Office solution. (Virtual training, 4 hours)
* Customer Success Managers are assigned to accounts that meet specific criteria.
Learn more about manufacturing communications solutions and how you can increase operational efficiencies and enhance the customer experience.