Are you customer obsessed yet?



At 8x8, we know the best way to keep customers happy is by working together as a team – and always going the extra mile.
It's time to make the difference!
Start sifting through the changes in our market and you will find overwhelming and undeniable evidence of how dramatically the role of the customer has changed in this digital age. If we drive our thoughts and efforts towards the customer, we will win.
It's time to make the difference!In a world of social media influencers and online reviews, customers have started to have massive influence in buying discussions, with their testimonies proving more persuasive for fellow customers than regular advertising or sales techniques. Wielding this considerable power, the individual customer has become more influential to businesses than traditional priorities.
Starling Bank set itself apart from traditional retail banks with an innovative, digital platform which provided an intuitive customer journey, based on their actual usage. This approach proved to be highly effective, with Starling Bank gaining just under a million customers within three years and being voted Best British Bank by the public at the British Bank Awards in 2018 and 2019.
We have seen many companies struggle to prioritise customer experience and suffer for it. Thomas Cook and HMV are recent examples of businesses not understanding customer journeys, ignoring customer expectations when it comes to service and products, and finding themselves shunned for it. Even John Lewis, famous for its positive customer experience, is falling behind on key areas of customer-centric growth strategy, particularly digital, which is becoming increasingly important as shoppers migrate online. When businesses ignore important areas of customer experience, growth falters and customers are more likely to go elsewhere.
The essence of the 8x8 team
Communication, collaboration and insight, working without silos.

At 8x8 we've never been content with just "good enough"– an approach that's kept us in the Gartner Magic Quadrant for eight years running. And when you look at what makes us truly great – it's you.
In fact, you make us outstanding. Keeping our customers happy across every time-zone in a business that never sleeps.
But we don't want to stop there.
Customer excellence is not a 'tick-box' exercise, it's a living, breathing thing we have to keep working at. And we want everyone to play their part. To go that extra mile to keep our customers happy. We want everyone to become Customer Obsessed.
We all know the best way to achieve this is by working together as a team, without silos. This frees us up to be more creative, imaginative and focused on our customers' needs. This is the essence of 8x8 and whatever your day-to-day role, you all have a part to play.
Check back regularly to share stories, see best practice examples and nominate colleagues who have gone that extra mile.
#8x8customerobsession
David Rowlands,
Director, Customer Success Management EMEA, 8x8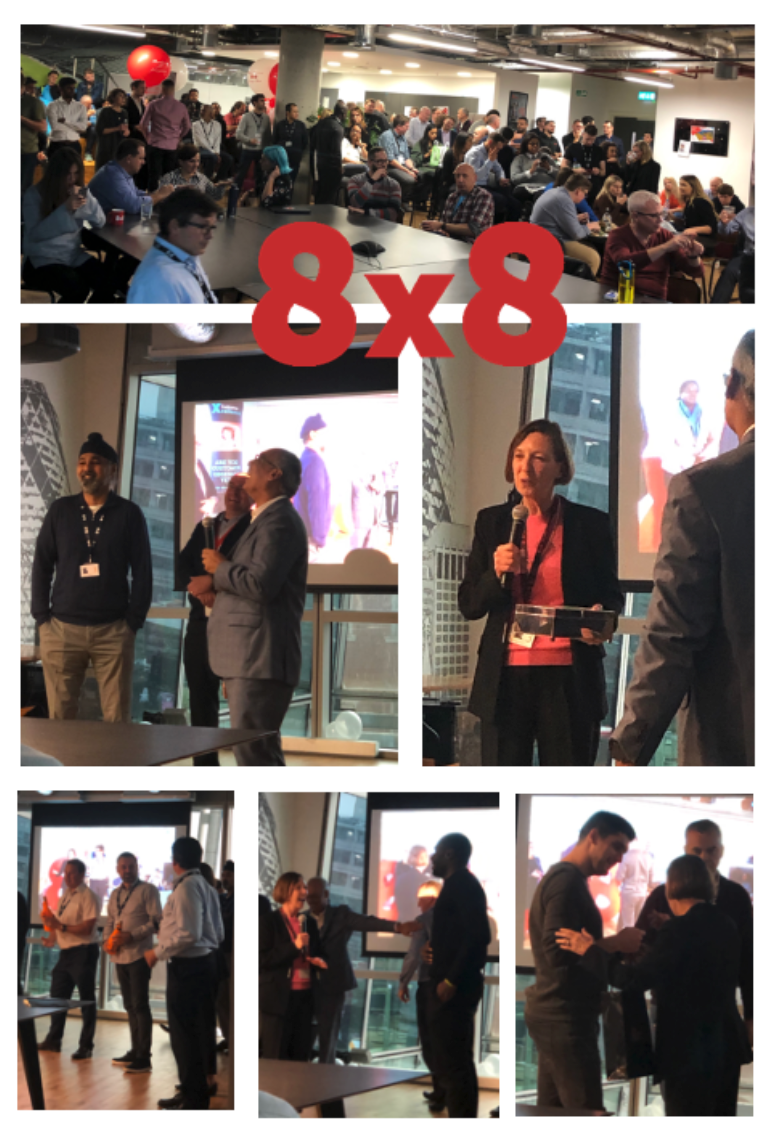 A trusted cloud communications leader

8x8 is trusted by more than a million business users worldwide and we continue to be a Gartner Magic Quadrant leader for Unified Communications as a Service, Worldwide. Our reliable service delivers 99.9999% core uptime and in independent tests 8x8's Virtual Office solution consistently outperformed other leading providers under normal and adverse network conditions*.
*8x8 Virtual Office - Analysis of Cloud Communications VoIP Quality Under Normal and Adverse Network Conditions, Tolly Report #217121, May 2017.