Call Centre FAQ Knowledgebase
Provide your customers with faster, smarter and more consistent answers with the 8x8 FAQ Knowlegebase
Contact centre agents are constantly answering the same questions. That's why the Frequently Asked Question (FAQ) Knowledgebase is essential for maximizing productivity. Any time a customer asks a question, agents can refer to the 8x8 FAQ Knowledgebase and provide the right answer quickly, reliably and consistently.
8x8 FAQ Knowledgebase Benefits
Provide comprehensive answers—Researched, consistent responses with links to additional content means customers get the best answers every time.
Easily create content—Supervisors can quickly and easily create, edit, arrange, add, delete and manage content.
Respond to changing conditions—New questions can be added quickly and easily.
Shorten interaction times—Fast access to the right answers makes it quick and efficient to answer repetitive questions.
Increase agent productivity—Keyword lookup and preformatted responses deliver the fastest answers to customer questions.
Train new agents—Supervisors share the same user interface as agents, to help support new and ongoing agent training.
Provide consistency across channels— Agents use the same tool to find the answers regardless of which channel they are using for their customer interactions.
Key Features
Search content—Use simple keyword queries to find answers quickly.
Import answers—Build your answers in the tool of your choice and easily import them from Word, Excel or PDF files.
Embed hyperlinks—Provide customers with comprehensive answers to even the most complex questions by embedding hyperlinks in answers.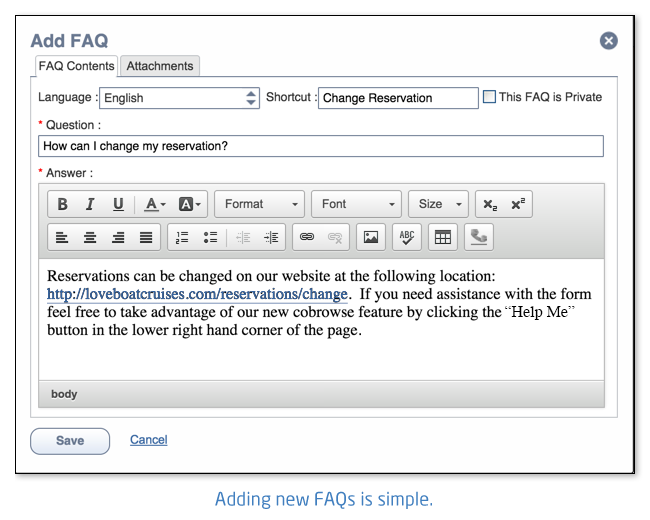 Provide cross-channel support—Directly insert answers from the FAQ Knowledgebase into an email, chat or other text-based interaction. Agents can also reference answers for phone-based support.
Translate FAQs—When used with the 8x8 chat auto-translate option, FAQ answers can be automatically translated as agents respond to chat questions.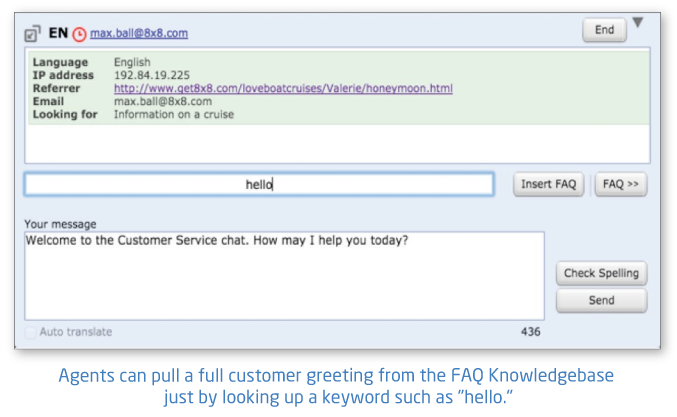 Create response templates—Response templates can be created by supervisors to provide a consistent look and feel for responses.
Manage multiple categories—Efficiently categorize information by creating lists targeted to specific groups, companies and organizations.