Connect agents to experts with 8x8 Expert Connect
Don't isolate your agents and customers from the experts with the answers. Connect your contact centre agents with the experts across the company with shared presence, chat, click-to-call dialing and easy transfers.
What do you do when your customer has a complex problem that your agents aren't equipped to resolve? Bring on the experts, even if they work in other parts of the company. 8x8 Expert Connect brings agents and experts together for lightning-fast first contact resolution.
8x8 Expert Connect delivers:
Increased first contact resolution: With 8x8 Expert Connect, organizations with both 8x8 Virtual Office and Virtual Contact Centre products can break down the barriers between agents and experts to increase first call resolution by 30% or more.
Shortened call durations: When agents can get to the experts with answers, interactions are more efficient, increasing customer satisfaction while reducing costs.
Protection of expert's time: With Expert Connect, agents are not free to constantly barrage experts with questions; your experts can indicate when they are available, and block access when they are busy doing other things.
How Expert Connect works
Communications between agents and experts is easy with 8x8. Shared presence between agents and experts and the ability to chat, call or conference in that expert is the secret formula to first contact resolution.  The tight integration between Virtual Contact Centre and Virtual Office makes all this possible:
Unified login: One username and password and one login screen for all 8x8 Virtual Office and Virtual Contact Centre users
Shared presence: Agents can see the expert's availability from their Agent Console, while experts in the company see agents in the same way that they see all other employees in the company through their Virtual Office mobile or desktop app.
Engage in chat: Agents can reach out to experts via chat to ensure their availability and ask questions.
Click-to-call dialing: Agents can call the expert through a simple click-to-call option in the Agent Console.
Transfer or conference: Once the expert is engaged, the agent can either transfer the customer to the agent or conference the agent on the call to ensure that the customer's problem is solved quickly, efficiently, and the first time.
Reach beyond the Contact Centre with 8x8 Expert Connect
With 8x8's Expert Connect feature your agents can reach beyond the contact centre to get help from experts in your company without ever leaving their console. And the expert uses their everyday Virtual Office communication tools to communicate and collaborate with the agent and customers.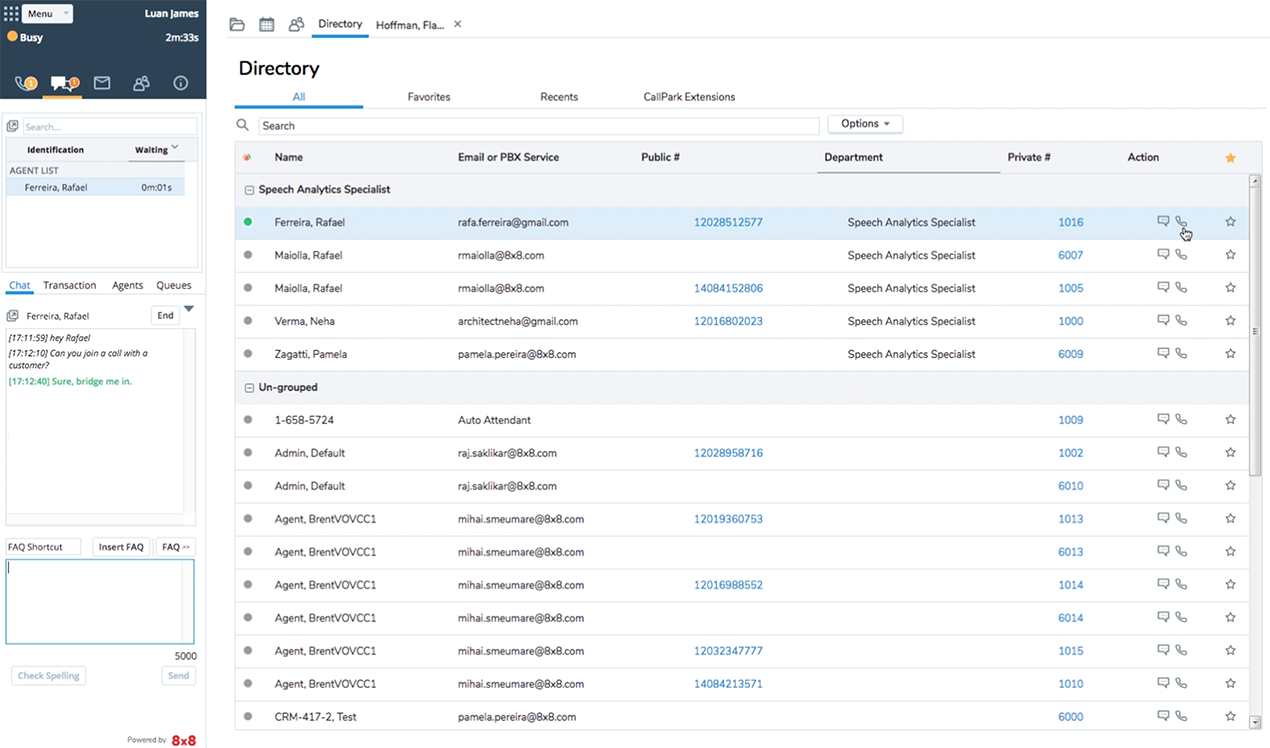 Agent view using Agent Console in Virtual Contact Centre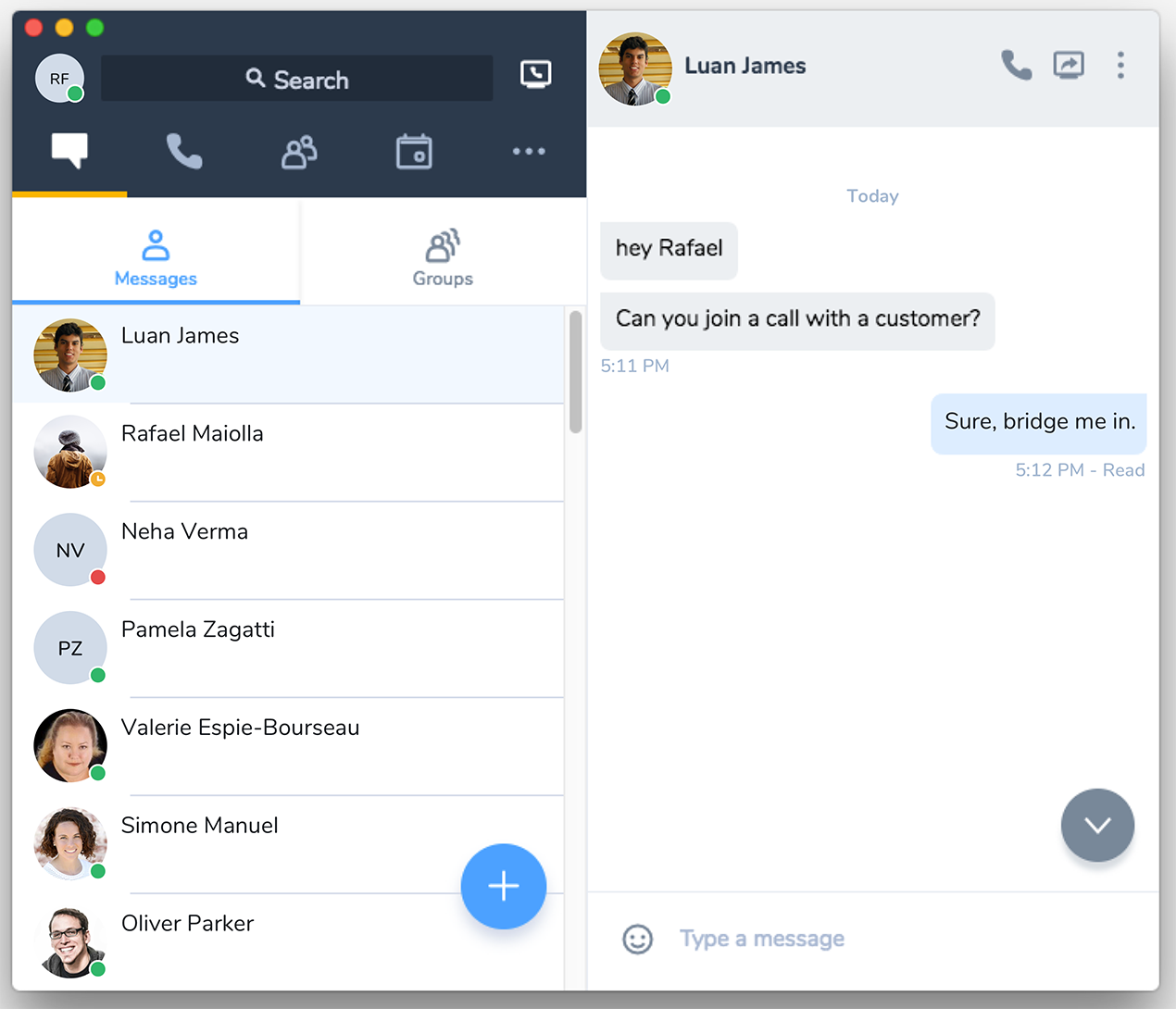 Experts use their familiar Virtual Office phone and chat tools.
Get the inside advantage with Expert Connect
One of the largest challenges facing contact centres today is the inability to provide first contact resolution. In fact, MetricNet's benchmarking studies indicate that first call resolution is the single biggest driver of customer satisfaction.
While there are a number of reasons that force customers to reach out to your organization more than once, one of the most common instances is when a complex problem arises requiring expertise beyond the contact centre.
According to the Yankee Group, 30% to 35% of calls coming into the aver­age centre are repeat customer calls that require expensive "rework" by customer service representatives. This is because most contact centres today are islands in the company with no direct access to the experts who are needed to get answers to hard, detailed, critical questions.  8x8 solves this problem by tightly integrating Virtual Contact Centre with Virtual Office in a way that provides agents with controlled access to experts so they can better resolve customer problems the first time they arise, without flooding company experts with a pile of customer calls.