Call Centre CRM and Workforce Management Integration
An integrated on-demand CRM and Contact Centre can have a dramatic impact on your business. Every customer interaction is monetized and new opportunities are realized and converted in real-time. By selecting a proven Contact Centre/CRM integrated solution from 8x8, you can be sure that the combined solution is reliable, scalable, and easy-to-use.
8x8 Virtual Contact Centre is integrated with leading on-demand CRM services such as Salesforce.com, NetSuite, hosted Microsoft Dynamics, Zendesk. Your CRM integration can be easily customized. Register for our Live Demo to learn more.
Thousands of agents have already taken advantage of this CRM integration capability to further optimize their call centre performance. As a result they benefit from:
Single user sign-on screen
Single click outbound dialing directly from the CRM application
"Popping" of the customer's CRM record automatically
Ability for agents to toggle easily between the two applications
Automatic call logging to your CRM
For integration with other CRM applications, our Professional Services team can work with you to achieve the level of interoperability you desire.
Key Benefits of CRM Integration
Out-of-the-box integration with the leading hosted CRM solutions
Increased operational efficiency by prioritizing routing based on the data stored in your CRM system
Increased agent productivity with integrated one-click dialing out of the CRM application
Reduced customer frustration by "popping" the caller's account information to the agent as soon as the call comes in
Configuring the Integration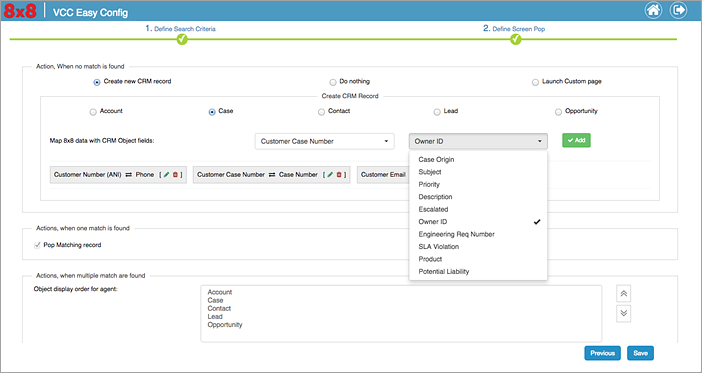 Integrated Agent Console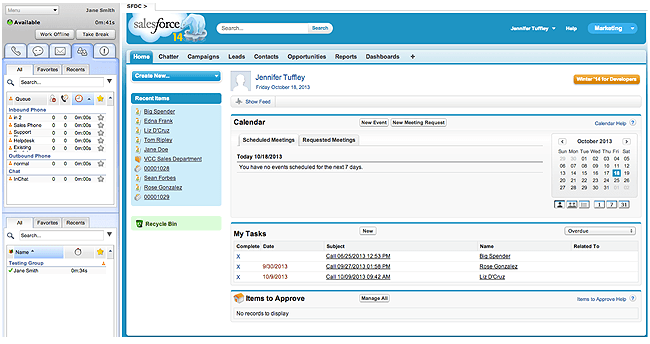 Providing Cloud Contact Centre and Workforce Optimization as a Single Integrated Solution
8x8 Quality Management gives you an integrated contact centre solution to provide your agents with the coaching necessary to best represent your brand. For workforce management, 8x8 and Teleopti offer a tightly integrated best-of-breed workforce management solution that improves the customer experience, increases profitability, and makes your business stand out from the competition.