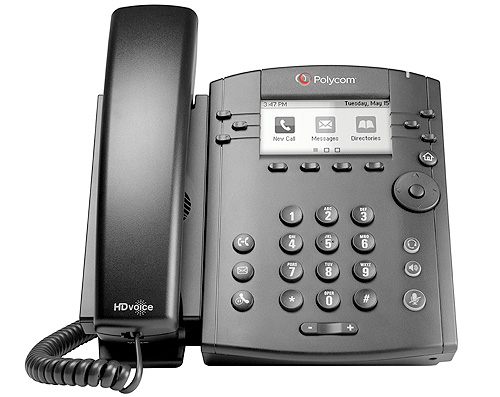 Poly VVX 301 / 311 IP Phones
The Poly® VVX® 301 is a durable entry-level business phone that delivers unsurpassed voice quality and clarity. It provides a high-quality, cost-effective solution for front line staff handling low to moderate call volumes. The intuitive grayscale user interface makes navigation easy and requires minimal training. It improves productivity for office workers and provides easy-to-use line key appearances. The Poly VVX 301 telephone is extensible and supports "sidecar" expansion modules as your users' needs and business grows. The Poly VVX 311 model also comes with a built-in Gigabit Ethernet bridge to connect a high speed device such as your laptop to your phone.
Highlights
6 line key buttons – Use the standard 2 line keys for managing two live calls on your phone at the same time, and use the 4 others as speed dial keys.  Or add-on Power Keys Service to manage up to 6 live calls at the same time and also monitor the call status of up to 4 other extensions — all this without the need for adding a sidecar.
Future-proof — Extensible technology platform for years of future apps being developed for this game-changing new platform.
HD Voice — Revolutionary voice quality using Poly HD Voice technology
Group Intercom Paging — Intercom to up to 23 paging groups that you define, or broadcast out to all other Poly sets in your office.
Power Keys — Take advantage of the unused line keys on your Poly phone and turn it into a powerful call handling and workgroup monitoring tool. The Power Keys Service is an optional service that allows you to assign BLF (Presence) keys and line appearance keys to transform your phone into a powerful workhorse.
To order, call 8x8 sales at 0333 043 8888


Documentation