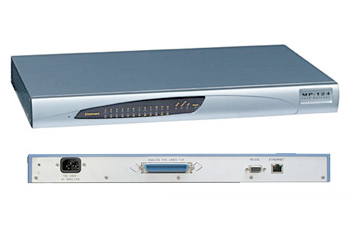 AudioCodes MP-124
24 Port ATA – Analog Phone/Fax/Paging Adapter
The MP-124 provides 24 RJ-11 FXS analog phone ports (when used with breakout accessory sold separately, see below) for use with your 8x8 service plans. Any port can support a voice, fax or paging plan.
Access to features such as caller ID, call waiting, call forwarding and voicemail through a standard analog phone
VoIP Capabilities: Echo Cancellation, VAD, CNG, Dynamic Jitter Buffer
High-quality voice encoding options using: G.711 and G.729A
Supports analog fax and T.38 fax from a standard analog fax machine
QoS: Diffserve, TOS, 802.1 P/Q VLAN tagging; RTCP-XR QoS Reporting
Can work with customer-provided router
Secure calling via TLS / SRTP (Must be special ordered, Reduces capacity to 18 ports)
Mounting options: standard rack mount, table top, wall mount
Dimensions W x H x D: 17.5 in x 1.7 in x 10.6 in. (44.5 cm x 4.4 cm x 26.9 cm)
Breakout Box – FXS Wiring Accessories
One of these solutions is required for the Audio Codes 24 Port MP124 ATAs product to access FXS (phone jack) terminations.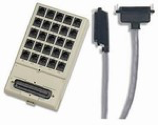 Break-out box option
(For table top use)

Documentation