What happened at this year's Call & Contact Centre Expo?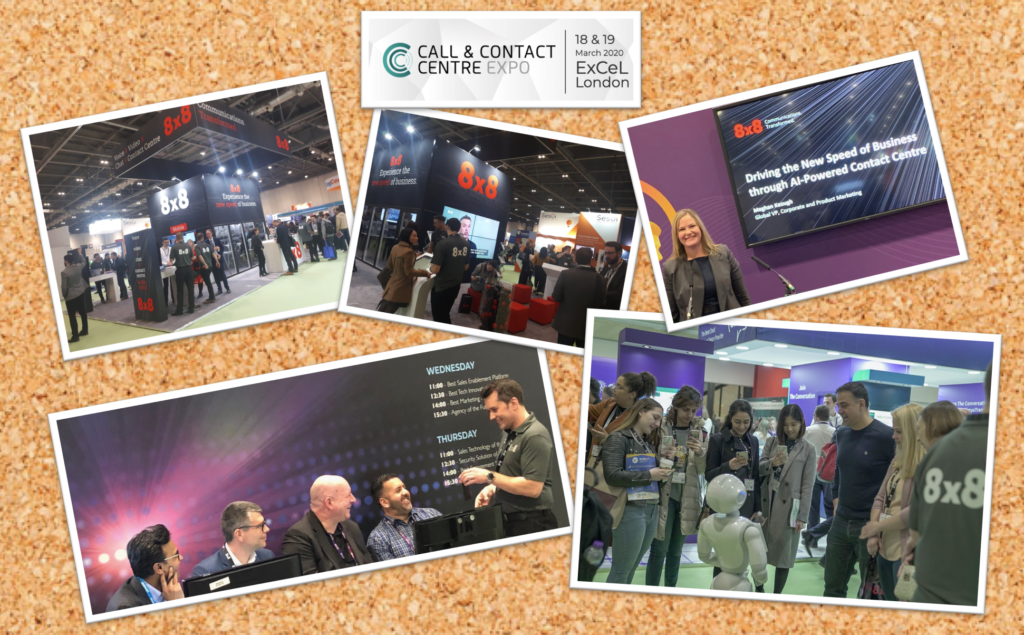 After an exciting few days at this year's Call & Contact Centre Expo in London, it is clear that there has been a huge amount of innovation since last year. Businesses are realising that the contact centre is full of useful customer insight, integrating technology into the contact centre and using this technology to collect this information can significantly improve overall business performance
The main themes discussed at this year's Call & Contact Centre Expo include artificial intelligence, chatbots and customer expectations in the digital age.
Beyond the hype – AI that works in the contact centre at #CallContact19
8x8's Meghan Keough gave a keynote speech on "Driving the new speed of business through AI-powered contact centre." Meghan discussed the hype around AI and the need for a proper approach when implementing this technology in the contact centre, including:
Organisations don't need in-house data scientists who know how to apply AI/ML to business needs when they select the correct communications vendor

Ensuring you are capturing all touch points, including historical and real-time data

The need for a contact centre reporting & analytics platform, to help your business understand what the data says
Meghan explained that with the right tools and processes, your agents and your entire business can move at the speed customers expect. You can also unlock actionable business insights from your data, increase agent productivity and identify customer pain points—all on one system of intelligence.
8x8 demonstrates its latest technology
At this year's Call & Contact Centre Expo, 8x8's booth featured the 'Office of the Future' that showed how customer queries can be answered on the first call as well as real-life demos of how our products are used. Our team demonstrated the X Series' newest features, including Speech Analytics for contact centres, real-time dashboards and our brand-new AI-powered virtual agent.
We also had a number of exciting live interviews with both UC Today and Enterprise Management 360.
We also had Pepper, our friendly humanoid robot, welcome visitors as they found their way around the booth.
Thank you to all that attended
We want to take this opportunity to thank all the attendees who stopped by the 8x8 booth to ask insightful questions about our products or to simply introduce themselves and their companies.
Try out the new 8x8 Meetings & 8x8 Contact Centre Experience
If you are an existing customer, reach out to your account manager and request a demo. If you are new to 8x8, call 8x8 solution experts on 0333 043 8888 or email [email protected].