OUTSOURCING SPECIALIST USES TECHNOLOGY TO TRANSFORM CUSTOMER SERVICE AHEAD OF EXPANSION OVERSEAS WHILE REDUCING SERVICE COSTS BY 35 PERCENT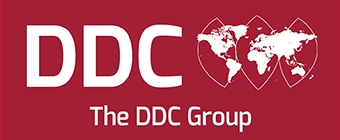 London – February 13, 2019 – 8x8, a leading cloud provider of voice, video, collaboration and contact centre solutions today announced it has increased customer satisfaction on a massive scale for DDC OS, the business process outsourcing specialist.  
Established in 1987, DDC OS provides services such as multimedia response handling, data capture and administration to clients in the utilities, finance, legal, charity and public sectors. DDC OS' Clients include: GB Energy Supply, Christian Aid, Lewisham Council and Baines & Ernst. The organisation has worked with 8x8 since March 2017 to support its ambitious growth plans and its 5,550 staff across 12 locations.
Before moving to 8x8 X Series, DDC OS did not have a central communications system and there were several disparate comms channels. On top of this, competition was on the rise and DDC OS needed to be able to offer the highest level of service for its customers. 8x8 X Series helps businesses transform their customer and employee experience with one system of engagement across voice, video, collaboration and contact centre solutions, and one system of intelligence on a single cloud-based technology platform.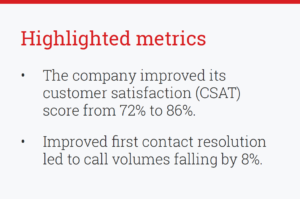 The advanced analytics provided by 8x8 X Series have also enabled DDC to highlight which point in the Interactive Voice Response (IVR) menu customers would abandon the call. Using this insight, DDC spent six months making small tweaks to the responses and navigations for customers to improve responses. As a result, a new feature, Queue Buster, was introduced. This feature allows customers to request a call back instead of waiting in a queue and has reduced the call abandonment rate from 7% to under 3%. Customer satisfaction scores have increased to 86% and call volumes have dropped by 8%.  
Chrissie Spencer, Head of Group Marketing for The DDC Group, said: "As a company, 8x8 is very agile, flexible, and enthusiastic to work with us to help ensure that we're continually providing a great service to our clients. It's just a wonderful relationship. The 8x8 solutions enable us to bring everything together into a single dashboard, connecting the dots between all the disparate pieces of information that we have in constant motion. Having the robust communications capability that 8x8 offers is vital to DDC OS. It's our lifeblood; it's what we do. If we didn't have what 8x8 gives us, we simply wouldn't have a business.
"Furthermore, 8x8 gives us the ability to ramp up teams, frequently containing dozens of full-time employees, to full productivity in as little as two weeks including hiring and training. The agility of our 8x8 deployment provides us with yet another differentiator over our competition."
With 8x8 X Series in place, DDC OS is now able to gather full insight into the customer journey – for example, why customers are calling and in turn how they can reduce call volumes. The organisation has also been able to track and measure the adherence to call schedules, which has increased from 80% to 96%. Service costs have also been reduced by around 35% – a massive transformation for the company.
As a result of the outstanding work 8x8 has being doing for DDC OS, the Institute for Customer Service has recognised their success with a shortlist for the Customer Satisfaction Awards for the best application of technology.
Mary Ellen Genovese, Managing Director of European Operations, 8x8, said: "Since we started working with DDC OS, we have seen the business go from strength to strength. The company's communications have completely transformed with 8x8 X Series in place – its clients can now connect their customers to the most relevant employees quickly, cutting down the amount of time it takes to resolve queries and moving to first call resolution. More and more companies are realising the benefits one cloud platform can bring to their customer experience. We're looking forward to supporting the team as they expand into other markets
To learn more about DDC OS and 8x8 please read our case study.
-ENDS-
About 8x8, Inc.
8x8, Inc. (NYSE:EGHT) cloud solutions help businesses transform their customer and employee experience. With one system of engagement for voice, video, collaboration and contact centre and one system of intelligence on one technology platform, businesses can now communicate faster and smarter to exceed the speed of customer expectations. For additional information, visit https://www.8x8.com/uk  or follow 8x8 on LinkedIn, Twitter, and Facebook.
About DDC OS
DDC OS UK was established in 1987 and is part of The DDC Group. The company has grown to service a wide range of customers in sectors such as Finance, Charities, Utilities, Consumer and Public Sector. We believe our approach is what makes us different; we spend time getting to know your business to create a truly unique proposition that we know will stand the test of time.
We are proud of our reputation within the market as a leader in on-shore, offshore and near shore business processing solutions. Our management team possess a wealth of experience, which is applied in an intuitive and collaborative manner. These two elements combined are what make  DDC OS UK, the award winning company we are.
We are part of The DDC Group; a global multi-million dollar BPO and KPO company. We pride ourselves on relieving our clients' business headaches and exceeding expectations. Our unique position allows us to not only improve our clients lives, but also that of the wider community, something we take great pride in across The DDC Group.