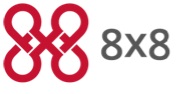 8x8 Unveils Next-Generation Capabilities for Global Contact Centres to Optimise Customer and Agent Experiences
Latest Advancements for Virtual Contact Centre Combine Innovative Quality Management, Sophisticated Customer Journey Analytics and Advanced CRM Integration
London – 10th March 2016
8x8, Inc. (NASDAQ:EGHT), the leading provider of Enterprise Communications as a Service (ECaaS), today announced next generation capabilities for its Virtual Contact Centre (VCC) solution that enable enterprises of all sizes to better manage their global contact centres, increasing agent productivity and personalising every customer interaction. With these new features VCC is the industry's only cloud based contact centre solution that integrates a suite of innovative quality management capabilities, delivers powerful analytics that monitor and improve the customer journey and provides a pre-built CRM integration tool that allows contact centre managers to configure and tailor the agent and customer experience without requiring professional services.
"Success in the travel and hospitality industry is dependent on building strong customer relationships and differentiating through high levels of personalisation and customer service," said Greg Meyer, Director of Systems Integration, iCruise. "With 8x8's Virtual Contact Centre solution we are well positioned to do just that. VCC has helped us track calls and sales success rates, significantly increasing our revenue. With the new capabilities we look forward to additional insights that further improve customer experiences and agent performance."
New Capabilities Deliver Integrated Contact Centre Experiences
The new VCC capabilities, with general availability in June 2016, offer a high level of integration and flexibility that enables even the smallest of contact centres to enjoy customer experience and agent productivity benefits that were previously available only to large contact centres at a much higher cost.
Quality Management: 8x8 is proud to offer a cloud native quality management solution built from the ground up as part of a full contact centre suite. The company's quality management tools are easy to use, and offer functionality typically reserved exclusively for large call centre environments. This solution can now be deployed by and provide value to smaller groups within an organisation— such as sales teams and internal help desks— and features a robust portfolio of monitoring capabilities for high-touch interactions, including:
• Powerful multimedia timeline interface: Contact centre managers can now listen to voice recordings, watch screen captures and jump from point to point within a conversation with 8x8's unique timeline approach to interaction display
• Quick Search: Leverage powerful search tools and an intuitive user interface to quickly find specific interactions of concern, to provide the best coaching to agents making them more productive
• Agent scorecards: Ensures consistent agent reviews and scoring tailored to every business with 8x8's easy-to-use scoring form builder
Customer Journey Analytics: In addition to 8x8's revolutionary operational analytics unveiled last summer, the VCC Customer Journey Analytics capabilities announced today offer a new level of insight into customer experience and help contact centre managers make timely, critical changes enhancing every customer interaction. The new analytics approach looks at contact centre performance from the customers' perspective to see what they actually experience when interacting with a company, providing valuable insight for improved customer service.
Specifically, VCC Customer Journey Analytics:
• Helps contact centre managers visually understand the full customer lifecycle for a call from self-service through agent interaction so they can identify and fix problems that would otherwise be missed
• Provides insights into IVR performance to help companies increase the accuracy of their call routing, ensuring customers get the best agent for optimal customer service experiences
• Drills down into specific customer call experiences to identify and correct customer interaction problems
CRM Integration: The VCC platform integrates a sophisticated new capability, VCC EasyConfig – an out-of-the-box integration tool that gives contact centre managers' direct control over the agent experience at a level previously available only through costly programming or professional services. In the company's initial deployment, 8x8 will partner with Salesforce.com to offer an easy to use configuration tool that provides the most screen view and workflow options available in the industry, delivering increased agent efficiency and a highly personalised customer experience. VCC EasyConfig gives contact centre managers the power to control the agent experience by:
• Identifying the right search criteria to increase chances of getting a match with every interaction
• Delivering the right CRM page and data to ensure the most efficient customer experience
• Logging the appropriate information in the right place, automatically providing the most complete, useful interaction history
Global Reach: 8x8 offers the broadest array of communications solutions to ensure customers have a truly global presence. Last May, 8x8 unveiled VCC Global, the first cloud-based contact centre solution that seamlessly connects an organisation's international agents over a single platform with integrated presence, multi-lingual chat with automatic translation, call routing, reporting and management. VCC Global is a highly innovative 'follow-the-sun' solution that uses local connectivity and natural language translation to provide personalised customer experiences worldwide. With innovative features including Expert Connect, customers empower agents to connect in real-time with any subject matter expert, from anywhere around the world, and across any department.
"8x8 is changing the way contact centres drive efficiency into their business and re-defining the customer experience across the full lifecycle," said Darren Hakeman, SVP Product and Strategy at 8x8. "It is imperative that our customers remain competitive and deliver the highest levels of service to their customers, and as their business partner we are committed to pushing the envelope on innovation to make this happen. 8x8 is the only company that offers high-value, enhanced contact centre capabilities on a single cloud platform, ensuring our customers around the world have a unified global contact centre solution with state of the art presence."
About 8x8, Inc.
8x8, Inc. (NASDAQ:EGHT) is the trusted provider of secure and reliable enterprise cloud communications solutions to more than 40,000 businesses operating in over 100 countries across six continents. 8x8's out-of-the-box cloud solutions replace traditional on-premises PBX hardware and software-based systems with a flexible and scalable Software as a Service (SaaS) alternative, encompassing cloud business phone service, contact centre solutions, and conferencing. For additional information, visit www.8x8.com, www.8x8.com/UK or connect with 8x8 on LinkedIn, Twitter, Google+ and
Facebook.
Media Contacts
Laura West-Wilson/ Tom Broughton, 0207 924 5656, [email protected]