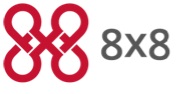 8x8 Scoops Best supplier of the year at recruitment directors lunch club awards 2016
Unified communications provider rated top by recruiters
London –16th February 2016 – 8x8, Inc. (NASDAQ: EGHT), the leading provider of global Enterprise Communications as a Service (ECaaS), has been awarded Best Supplier of the Year at the inaugural Recruitment Directors Lunch Club (RDLC) awards. The company was chosen from 15 suppliers by the organisation's members.
Hosted at London's Hippodrome, the RDLC Awards brings together over 150 of the industry's best. Trophies were handed out for innovation and success to both companies within the industry and those who supply to them. RDLC is the sector's leading network and member's group for recruitment CEOs and directors. The Club has a membership of over 60 recruitment businesses and continues to grow rapidly, both in the UK and internationally.
Gary Pryor, Enterprise Sales Director of 8x8 in the UK said, "This award is a testament to 8x8's dedication to providing stellar support to companies within the recruitment industry. We now work with a variety of recruiters of different sizes, demonstrating that we're able to provide a flexible and effective solution to all. Our customers tell us that 8x8 Virtual Office makes working flexibly easier, ensuring that they offer a world-class service, no matter where in the world their candidates or clients are based."
8x8's Virtual Office gives businesses within recruitment increased telephony flexibility. With Advanced Call Forwarding, calls are forwarded to an alternate number or to multiple devices, such as mobile, tablet or home phone, allowing recruiters to keep in constant contact with their candidates and clients.
8x8's Virtual Office also features an in-built audio and video conferencing system, a valuable tool for recruiters. Video conferencing speeds up the interview process for clients and candidates, whilst also saving costs on international calls and travel, providing a modern approach to delivering services.
About 8x8
8x8, Inc. (NASDAQ:EGHT) is the trusted provider of secure and reliable enterprise cloud communications solutions to more than 40,000 businesses operating in over 100 countries across six continents. 8x8's out-of-the-box cloud solutions replace traditional on-premises PBX hardware and software-based systems with a flexible and scalable Software as a Service (SaaS) alternative, encompassing cloud business phone service, contact centre solutions, and conferencing. For additional information, visit www.8x8.com, www.8x8.com/UK or connect with 8x8 on LinkedIn, Twitter, Google+ and Facebook.
Media contacts: Laura West-Wilson/ Sofia Cabrera, 0207 924 5656, [email protected]