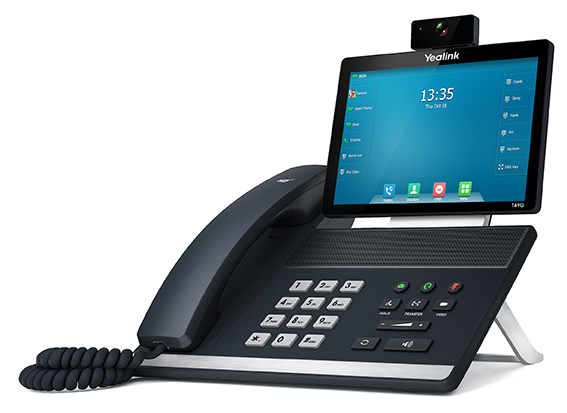 Yealink SIP-T49G IP Phone
For managers and knowledge workers who need instant visual communications from their desktop, the Yealink SIP-T49G is a business media phone that delivers business-grade video calling.
The SIP-T49G business media phone unifies video and voice, in a simple-to-use communications tool. With an intuitive touch screen interface, video calls on the Yealink SIP-T49G can be initiated with a single touch.
Point-to-point video calls are just like dialing a normal telephone number when used on 8x8 Virtual Office service. And Yealink video phones can participate in multi-party video conferences when connected to 8x8 Virtual Room Service.
Highlights
Easy user experience with interactive color touch screen
Large Vibrant Display — 8.0″ 1280x800 color touch backlit LCD
1080P HD camera for extraordinary, real-time face-to-face interactions
HD Voice — Yealink Optima HD Voice provides advanced acoustic clarity technology, including full duplex, echo cancellation and adaptive jitter buffer
Simple and fast one-touch calls
Quick payback – Lower travel expenses; equip each employee for the cost of one business trip
Enhanced productivity – Integrate communications into business processes delivering faster decision making
Enhanced Data Rate (EDR) technology
High accessibility – Dual 10/100/1000M Ethernet ports, Bluetooth® support, Wi-Fi, 2x USB ports and HDMI connection
The Yealink T49G addresses the need for heightened digital security by using SIP over Transport Layer Security (TLS/SSL), significantly enhancing data protection
Yealink SIP-T49G Only $379.99 (Includes AC Adapter)
Documentation