Pro
Voice, Email, Chat
---
---
---
---
---
---
---
---
---
---
---
---
---
---
---
---
Ultimate
Voice, Email, Chat, and more…
---
---
---
---
---
---
---
---
---
---
---
---
---
---
---
---
---
---
---
Powerful cloud contact center service to enable better customer engagement
Put the customer at the center of everything you do without breaking a sweat—anywhere in the world. Our powerful cloud-based call center software is extremely flexible, quick to deploy and simple to use. Call 1-866-446-2067 to speak to a Virtual Contact Center representative.
The cloud-based solution that lets you focus on what's really important: your customers.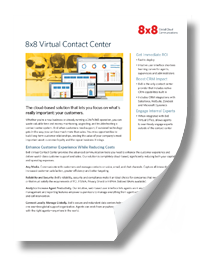 If outdated technology gets in the way, you can lose much more than sales. You miss opportunities.
Virtual Contact Center Delivers:
Immediate ROI with fast implementation
Intuitive user interface shortens learning curves for agents and supervisors
Built-in CRM integrations with Salesforce, NetSuite, Zendesk and more
Fill out the form to get all the facts and a free quote now!
Download the Datasheet
and get a Free Quote.
8X8 WEBINARS
Learn from 8x8 experts and industry leaders how global cloud solutions from 8x8 can help your business and improve your customer service, all while saving you money and time.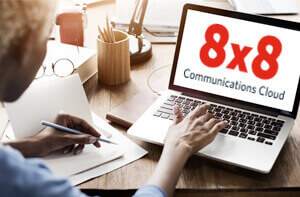 WE CAN HELP
Take advantage of these great resources.