Why They Call It Growing Pains—And How VoIP Phone Service Can Help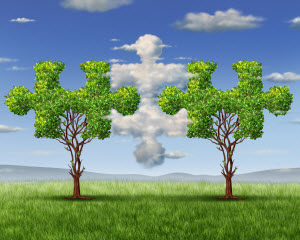 Both kids and businesses go through growth spurts. Almost every parent of a grown child knows the feeling of turning around one day and seeing a 16-year-old kid who is now about your size, instead of a toddler who couldn't reach the faucet.  When did all that growing-up happen, anyway?
It's like that with businesses, too. One day, you're busy running the company and getting more business. In what seems like an instant later, you wake up and realize that your business isn't operating as efficiently as you would like.
VoIP Phone Service Can Help—Without Sapping New Growth
Actually, in the meantime, you've added more people, maybe even moved into a bigger office—or maybe several new offices. With conventional phones, the time and money you'll spend making your office look and feel like one unified office—to customers and employees alike—could be painful and costly to address.
But Voice over Internet Protocol (VoIP) has really brought down the cost of unifying offices under one easy-to-administer system.  With VoIP phone service, there's no complex telecom equipment to store in backroom PBX closets or expensive consultants to hire, just a phone call to the VoIP provider and monthly charges that start at around $25 a month per line.
Even Simple Changes Can Foster Teamwork
Many VoIP customers are surprised at how much a simple change like a new phone system can make in team building and unifying employees.  Christine Lee, data manager at Professional Development Associates, Inc., says that her company's 8x8 VoIP phone service—which lets people connect with remote offices or mobile employees—has had a stunning unifying effect on teamwork.
"8x8 has brought both of our offices together and made it easier to communicate and work with each other," says Lee. "The phone quality is way better than what we had before, and the kicker is that is also way cheaper."
Work with Mobile Employees and Remote Offices Like They're In the Next Cube
Geraldine Cronin, director of media strategy at Tango Media Management, agrees.  "I work from home, and the 8x8 VoIP phones pull us together as a team, as if we were all in the same office," she says.
So don't let the darker side of your business success sneak up on you, or you get gobsmacked by how much team unity and collaboration have fallen. Your employees all work for the same company. Make them feel like it with a new business VoIP system–the successful-business remedy for growing pains.
Learn more ways your VoIP provider can help your small business unite for continued growth.