Retail's Phygital Paradox: Digital Can Actually Improve the In-Store Experience
This post is part of a series focused on the retail industry highlighting emerging trends affecting consumer and retailer behavior.
Here's the reality: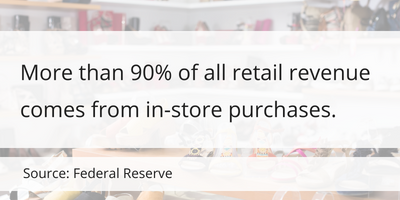 This stat is so important that the Federal Reserve tracks it here. People are often surprised by the continued strength of brick and mortar. But, it is also true that online sales are growing at a much faster rate. The fast growth is a result of consumers getting more comfortable with purchasing what they can't see and touch first, fast and sometimes free shipping, easier returns, and reviews from consumers who have, allegedly, used the product. The result is that successful retailers are realizing it's not just omnichannel anymore, but all about providing a unified retail experience.
And, with all the talk of how Gen Z is changing retail, it's become crystal clear that one major advantage stores have over eCommerce is immediacy. Consumers can go to your store to play with, learn about, and physically inspect items which are impossible for them to do on digital channels. This makes the physical store not only more convenient but also somewhat necessary for larger purchases or items for which the consumer has no prior experience.
But getting them into your store, versus your competitors, is where digital has an immense advantage over physical retail. But just because your organization wasn't born online doesn't mean you can't master digital. If anything, physical retailers must amplify their digital presence if they are going to remain relevant.
Consumers Can Only Buy What They Can See
While there is no shortage of marketing technology companies who would contend they (alone) have the answer to all your consumer marketing woes, I believe there are three essential steps to using digital in combination with your physical stores to increase revenue and relevance in the digital era.
1. You either rank or you don't
Search seems to be the way we access information, from figuring out how things work to getting us where we're going to learning about new products. It's the digital version of location, location, location. If you aren't appearing in search, especially near the top, the expectation that consumers will just find you amongst all of the other options are getting more and more remote.
2. Use stores as an advantage 
In conjunction with search, showcasing that you not only have the product customers are looking for, but also make it available for pick-up just around the corner to satisfy that instant gratification itch, makes the difference between converting the sale or losing them to eCommerce competitors. Basically, if you want them to buy from you, make it easy for them to find the product want on your website, make it easy for them to find the nearest store and make it easy for them to  "Buy Online-Pick Up In Store" – essentially, retailers need to add "1-click to buy and pick-up in the nearest store" to their arsenal.
At the recent Retail Innovation Conference, one provider suggested embedding the local address and phone number in search results to get consumers to not only notice your product but also provide them with an opportunity to see them in action at the nearest store. Another retailer found that showing the location of stores actually improved online conversion since it gave consumer confidence they could easily return items to the store if they weren't satisfied. Talk about omnichannel!
3. No eCommerce? No excuse
There are lots of retailers who won't ever need an eCommerce component – gas stations, fast food and dollar stores come to mind. But digital is still an effective way to notify consumers about promotions or to make them aware of your location. Without the benefit of an indexed eCommerce site, those businesses need to increase efforts to make sure they appear when consumers are searching for terms that match your products and services.
At that same conference, the head of marketing at a dollar store chain had this same message. While eCommerce isn't a viable channel for them, digital promotions are a way they inject a sense of urgency and motivate customers to action before the deals are gone.
While necessary, technology is not enough
You can only get so far with systems and solutions if your organizational and process structure limits their potential. It is this blend of technology and alignment with the customer experience that will keep your business relevant in the digital age. To start, take these three steps:
Break down barriers that result in driving customers to either eCommerce or stores – To the customer, you are one brand. Start acting like it, and don't ding internal groups for helping other internal groups. Think "unified retail experience".
Gather intelligence from across your organization – Data is the most valuable resource, so make sure you are capturing it across all channels, not just the easy ones.
Remove any and all distractions/hurdles from the in-store experience – After all this digital effort, keep your associates focused solely on the customer in front of them. You got them there – now give them the best experience you can.
See how retailers like you are improving customer experience and the bottom line.