McDonald's Franchise Expands—With 'Invisible' 8x8 Phone Service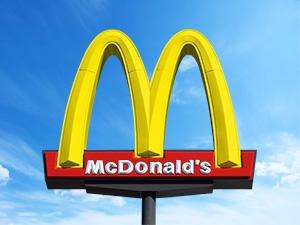 It would be hard to find an environment that's tougher on phone systems than a restaurant like McDonald's. In the kitchen area, lots of busy, hurried people are focused like a laser beam on providing fast, efficient service—not on the care and feeding of their phone systems. And when even a few seconds per order counts, the phone system has to be easy to use or change, and  above all, absolutely reliable.
Most Phone Systems Can't Handle the Truth of Fast Food
Most phone systems can't hold up to these harsh realities, and franchisees often struggle to get good service. For example, for 20 McDonald's franchises in the Nashville area, reliability was so low that it prompted the franchisee's IT consultant, Jay Daniel, to look for another provider.
"We used to have at least one restaurant down every single day," says Daniel. "The restaurant owner was paying too much and not getting a lot for it," he says.
8x8 Provides a Low-Cost, No-Maintenance Fix
The situation demanded a no-maintenance, flexible, tough communications system—and one that wouldn't eat into the franchisee's bottom line. Daniel looked at many possible solutions, and settled on an 8x8 cloud-based solution.
"8x8 won out because of the numbers," says Daniel. "Their fees were lower and consistent from month to month. It was a much better cost structure for a franchisee with 20 restaurants distributed across two counties."
8x8 maintains the system and took the lead in helping the company port its numbers from its old provider and roll out the new service.
The result?
Uptime Now Best in the Region
"Now we have the most uptime of any McDonald's franchise in the Indianapolis region, which includes the greater Nashville area," says Daniel.
And, he says the service is flexible enough to change call routing quickly, or open up new stores as the franchise expands—something that franchise owner Phil Gray loves.
"About a week before we're due to open a new location, we go to the restaurant site and plug everything in," Gray explains. "Once we confirm it's working, we know we're ready to go."
No Maintenance, No Problem—With 'Invisible' System
Daniel says the system is so reliable that people take it for granted.
"Our 8x8 phone system is kind of invisible because it just works," he says. "It's amazing how few problems we have and how few devices have failed. 8x8 is exceedingly reliable—no care or feeding required!"  Learn more about the benefits an 8x8 phone system offered this McDonald's franchisee in the case study.