Infonetics: #1-Ranked 8x8 Leads the VoIP Charge into the Enterprise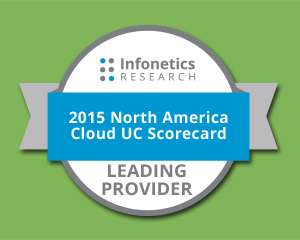 Should your organization turn to the cloud and Voice over Internet Protocol for its communications? Odds are, at least some of your competitors are doing just that, according to a new report.
Mid-sized enterprises are increasingly turning to VoIP and related communications technologies to run their organizations, and 8x8 is leading the pack. That's the conclusion of this year's Infonetics Cloud UC Scorecard report.
"8x8 is a decisive leader in the hosted UC market for the second year in a row," says IHS Infonetics Research Director Diane Myers. "Building on its solid financial position over more than three years and on its continued focus on service enhancements and geographic expansion…8x8 is successfully moving up-market."
Two First-Place Rankings in a Row
It's the second win in a row for 8x8. In this year's Scorecard, Myers writes that 8x8 maintains its #1 position "due to its large installed base of hosted seats, solid financial statements, and continued execution on its service strategy. 8x8 has consistently been near the top of our Scorecard and is a long-standing stalwart of the hosted PBX and UC market, with a strong position with small businesses and continued growth up-market."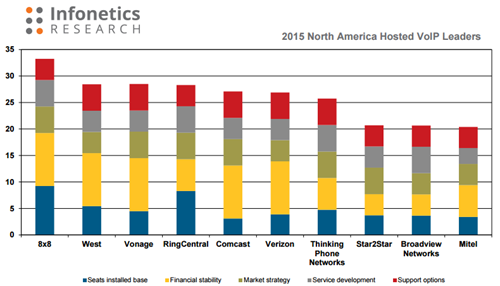 A Shakeout is Probably Still Coming
The providers that made it into the Infonetics top ten had over 170,000 VoIP and UC seats each, and the top providers had over 450,000 seats. A number of providers that did not make the cut have an installed base of 100K–200K seats.
Financial Stability is a Key Factor
Financial stability played a big part in the rankings, and 8x8 earned a perfect ten out of ten on this measure.
But the report also noted that "The market cannot sustain the large number of providers long term, so we will see further consolidation or providers closing down," says Myers.
The report also mentions that RingCentral "has been spending upfront more than other firms in this space on customer acquisition," probably referring to the $31.9 million—or 49 percent of total revenue—that RingCentral spent in the quarter ending in March, 2015. RingCentral earned a score of six out of a possible ten in the financial stability category.
Best Installed Base and a Perfect Score for Service Offerings
8x8 also ranked high for its installed base—the largest for any Top Ten provider—and for its service offerings, where it achieved a perfect 5 out of 5.
Perhaps for many enterprises, that's the best news—a large array of 8x8 Enterprise Ready services designed from the bottom up for global deployment.
Download the Scorecard
Download an excerpt of the Infonetics Research 2015 Cloud US North America Service Provider Scorecard. Compare the 10 top providers and see why 8x8 was ranked #1. Download your complimentary report now.