Engineering An Exceptional Retail Customer & Employee Experience
With the holidays upon us, retailers are running at full speed to ramp up service levels while also keeping an eye out for 2018 and beyond. As we go into the new year, retail IT leaders should be taking a closer look at the vendors and services they employ in hopes of gaining greater productivity and efficiencies as well as keeping their brand ahead of the pack. Given the increased competition and need to drive customer loyalty, any customer-centric organization should be reviewing their communications, collaboration and customer experience strategy.
For savvy retailers, communications are more than just phones. They are all those interaction channels that play a part in the customer experience – from a web chat asking for shopping advice, to a call for holiday store hours, to an agent messaging a product manager to ask a detailed product question. As part of this, beyond the expectation of basic functioning, the omnichannel experience across all these various interaction points should be as seamless as possible while providing the consolidated insight that managers need to adjust and refine the experience for customers and employees alike.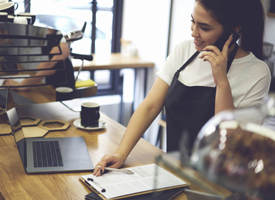 With the need for more agile and adaptable tools, cloud-based communications and contact center solutions are growing in favor for retailers looking to connect their entire operation and constantly shifting consumer channels, while improving productivity, simplifying operations and lowering costs. This is of particular interest for those that are concerned about the competition for this and future seasons as 67% of retailers believe outdated technology systems cripple their ability to compete. Retail IT leaders need a modern communications solution to support each and every type of user as they aim to deliver an exceptional customer experience in an era of increasing customer expectations.
With this goal in mind, retailers are turning to truly unified cloud communications strategy to:
Centralize management and insight across communications, collaboration, and contact center through an easy-to-manage, cloud-based platform that captures data analytics at every interaction
Quickly and easily deploy and adapt a seamless communications and collaboration strategy across multiple locations for exceptional employee and customer experiences
Use data analytics to redesign and continuously improve the customer journey for more relevant and responsive enhanced customer engagement
Want to gain some additional knowledge on how retailers are turning to cloud communications to improve productivity and deliver a better customer experience? Sign up for the on-demand webinar, Creating A New Standard For Productivity in Retail, to learn more.