Don't Let Bloated Business Phone Service Make You Miss the Next Great Wave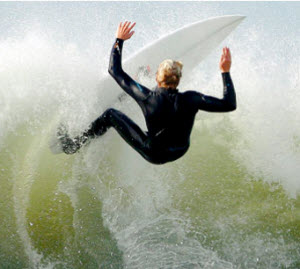 You can't ride an awesome wave of opportunity with an old-style PBX closet or Grandma Bell carrier. That's why a well-known surfboard company has ditched theirs, in favor of VoIP business phone service by 8x8.
"Traditional phones systems are too bloated and expensive for a small business like ours," says Paul Bresenden, managing partner and big Kahuna at Cordell Surfboards.
"Before we had two AT&T lines that were constantly bottlenecked," says Bresenden. "With 8x8 we have more powerful functionality and a much lower monthly payment. I would say it's 400 percent better than our old business phone service."
"People are afraid of adopting new technology, but 8x8 takes all the fear out of making the transition," says Bresenden. "The service is affordable, reliable and fully hosted, which means there's no hardware to manage or big upfront costs."
Best of all, he says, "You can dive right in and it works. That's what small business owners need.".