Does Your Call Center Software Show You These Critical Metrics EVERYWHERE?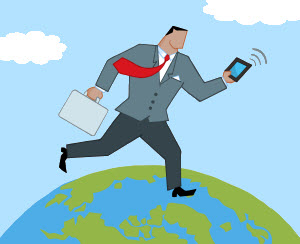 You can't manage what you don't know. And for companies who want to boost their image and sales with a reputation for great customer service, knowing and managing the real-time metrics of contact center operations is crucial to keeping customers satisfied.
When customers reach out to an agent, they want assistance NOW. That's why smart contact center supervisors constantly monitor their agents' availability and readiness to answer customer calls. They've long relied on call center software that projects key statistics, typically on big monitors on contact center walls.  At a glance, these wallboards answer questions such as:
How productive are my agents?
What is the number of calls waiting in a queue?
What is the current longest waiting call in a queue?
How many eligible agents are available to answer high priority customers?
What is the total number of accepted calls since the beginning of the day?
But What if You're Not IN the Contact Center?
With the 8x8 Wallboard, you can now get these real-time metrics from your contact center floor or from your mobile device on the go. No matter where you are, 8x8 helps you stay on top of your contact center operations.
8x8 Wallboard: The Stats You Need in Real Time
8x8 Wallboard is a feature already included in most 8x8 Virtual Contact Center plans. By providing performance indicators in real time, 8x8 Wallboard helps you identify the slightest sign of an overcrowded queue, or an increased abandoned call rate. And that means no more going out to lunch and getting ambushed with a customer service meltdown.
You can choose from readily available statistics or build composite statistics to suit your business requirements. For example, to provide the best calling experience to your high-priority customers, you can track how many agents are eligible to handle these calls. Eligible agents are assigned to the high priority call queue, but currently busy with other skills, or working offline, or post processing, or on break. When this stat drops, indicating fewer eligible agents, and the number of customers waiting in this high-priority queue starts spiking, you can quickly take corrective action by tracking eligible agents working offline or by moving agents from other queues into this queue.
With the 8x8 Wallboard you can:
Get a bird's-eye view of call center performance and track agent availability.
Apply business intelligence to the decision making process.
Proactively manage response time to customer demand and reduce waiting times.
Access dozens of pre-calculated statistics and define custom statistics
Receive audio and visual alerts for potential or actual slips in the performance.
Take Your 8x8 Wallboard with You
The 8x8 Wallboard is now mobile-friendly. We have optimized it for mobile devices including iPhone, iPad, and Android phones and tablets. The display of the statistics on the wallboard dynamically adjusts to the screen size. In just a few taps, you can view your contact center metrics wherever you are.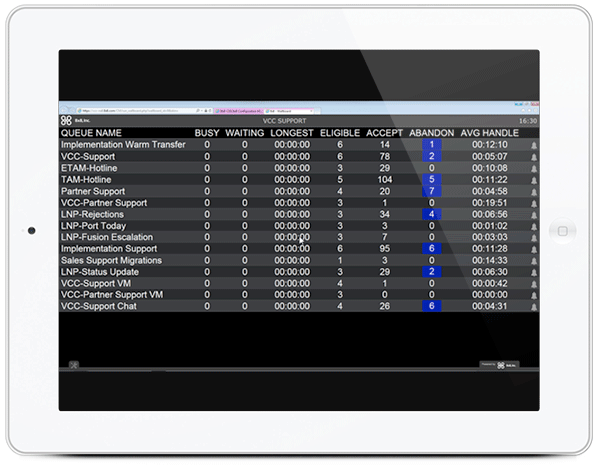 How to Access 8x8 Wallboards on Mobile Devices
To run the 8x8 Wallboard, all you need are your login credentials for the 8x8 Configuration Manager.
Steps:
Go to the Configuration Manager login URL on your mobile browser.
At the login prompt, enter your credentials and tap Login.
Note: By default, the Wallboard Access option is selected and a list of defined Wallboards is shown.
Select a wallboard and tap Run.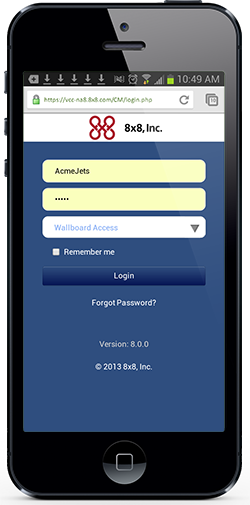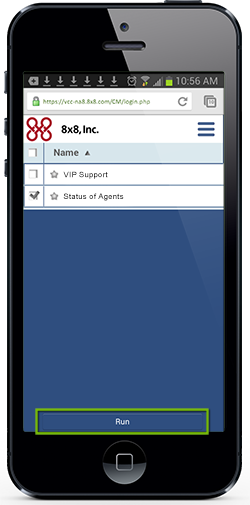 Accessing your Wallboard from a mobile device.
 Customize the Wallboard Display Font
You can control the font size of wallboard display and also mute audio alerts on your wallboard. Click the Tools area in the wallboard, and use the + and – signs to increase or decrease the display font size. Check the Mute All option to mute the audio alerts.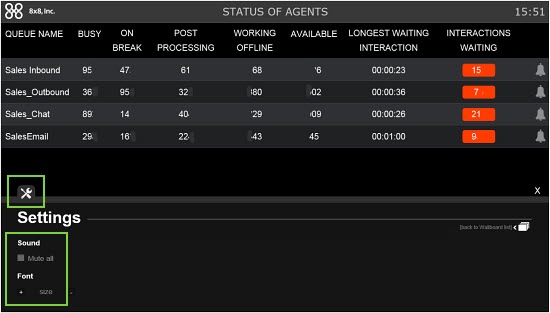 Whether your customer interactions are phone calls, chat requests, voicemails, or emails, 8x8 Wallboard provides real-time metrics on queue traffic and agent availability, which are critical to serving your customers better. Access these stats on the go, and make instant adjustments to make your 8x8 Virtual Contact Center more efficient.