Do You Have What It Takes to Make Customer Satisfaction Everybody's Job?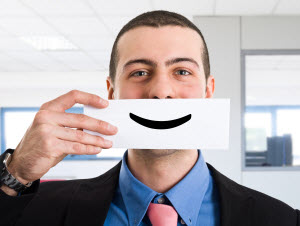 For years, managers tried to get their employees to take service seriously with the old saying, "Customer Service is Everybody's Job." It was a good aim, and it worked pretty well for small companies. But as companies got larger, many of them cloistered customer service in actual departments called "service" and "support," because these were the only departments that really had the tools to handle high-volume customer contact and track all of the communications and actions taken to please customers.
Chief Customer Officer?
Some companies are now backing away from this siloed approach. For example, technology commentator Rob Enderle wrote recently that BMC—the giant software and services company—has established a Customer Advocate reporting to the CEO, so that customers have a virtual seat at the executive table.
Enderle says he once promoted this idea to Microsoft after the Vista disaster, though he referred to it as the "don't do something stupid" executive.
"Often vendors make obviously bad decisions because they have completely lost track of their customers, and other goals like getting the product shipped have trumped keeping the customer happy, often because of screwy employee awards and objectives. The chief customer officer should be effective at keeping this from happening," says Enderle.
In addition to this high-profile hire, many companies also now have a chief experience officer or chief customer officer, who has similar duties. It's an important title with a direct line to the CEO.  It is also usually an influencer role with little or no staff, trying to force different organizations together to work in the best interests of the customer.
Trend Toward Pulling in Non-Support Experts to Help
Such job titles are part of a growing trend toward reengineering customer service. Many large, healthy, thriving companies now regularly use other departments and individuals to help solve customer issues and handle escalations. Engineering might handle complex technical escalations, and complicated billing might be sent to an accounting specialist. These professionals can often resolve issues and save customer relationships.
This means that many executives need to ask critical questions about customer service:  In your organization, who besides support personnel needs to talk to customers?  How do they interact with customers? And what are the implications of those interactions?
Invisible Transactions Often Confound Customer Satisfaction Efforts
The problem is that these interactions are often not captured, almost like an off-the-books transaction that companies don't track and are invisible to the organization—and to the support organization.  Sometimes, support people end up calling lots of different folks in the chain before they call a customer back so they can understand who said what to whom.  Talk about a time sink.
Increasingly, people outside of the support department need to access support information—and update it to communicate and document it for the rest of the organization. But how can you bring them into the fold?  We certainly are not going to bring them into the contact center for occasional contact. But somehow, we need to get them into the customer support stream.
A New Customer Support Model Requires Different Tools
I think there is a new customer support model on the rise.  And while it's not the death of the contact center, it definitely means the death of the belief that all customer interactions could and should be moved to a single, monolithic organization hoarding a vast array of hardware and software tools that nobody else is allowed to use.
There needs to be something more distributed, a democratization of customer interactions and it's going to have to come from the cloud.  Light-touch, simple-to-use tools that understand different roles and how different people within the organization deal with customers.  Tools with a light touch, but tools that can provide access to the right information and are integrated with CRM for an organization-wide view of customers that would include:
Sales history for the sales guys
Support tickets for customer service
A bit of customer background for an engineer who, try as she might, can't seem to hide from those customer calls.
To Manage It All, You Need Communications Tools That Work Together
And what if those interactions that happen outside of the customer support department—in engineering, accounting or even marketing—were captured? The occasional experts wouldn't need to add a ton of detail, and you certainly couldn't ask an engineer to provide a three-page explanation of every phone call they take. But you could ask for maybe a sentence or so, or at the bare minimum, generate an automatic log of when the call happened, who the customer was, and how long it lasted.
That's one of the advantages of having a unified communications system that includes phone service, meetings, faxes and a cloud contact center, like the Virtual Office/Virtual Contact Center combination that 8x8 offers.
Both of them are integrated with CRM—8x8's and standard systems like NetSuite, Salesforce and Zendesk.  So if your organization already has a contact center, it's possible to either give an extra seat or two to a few key people that interact frequently with customers.
Or, you can at least capture and automatically log the calls and customer info when someone calls an expert's regular Virtual Office business phone. It's not as complete a solution and is not designed for high-frequency customer contact like the kind that call centers experience, and it doesn't have the same reporting and management capabilities. But customer histories can be logged, and being able to see incoming caller information can be invaluable.
Cloud-based Contact Center Features are Orders of Magnitude Cheaper
And because Virtual Contact Center is a cloud-based service, having an extra license for such an expert is both extremely inexpensive and easy to get. A cloud-based service can cost orders of magnitude less than the ludicrously expensive proposition of building a full-blown, old-style contact center in each department. Rather, the cost is much closer to regular phone service rates.
Maybe that's the future of customer service: One organization, one customer satisfaction engine, and one unified communications system that works with a contact center and serves many different hands on deck when needed—from contact center workers to the CEO.
That's why 8x8 provides this service today. And as Replicon's global IT director, Neal Alberda, puts it: "8x8 is really the only hosted VoIP provider out there that can integrate a virtual call center into their service."
To learn more about 8x8's Virtual Contact Center, click here.