I Can't Get No Customer Satisfaction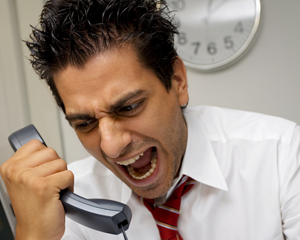 Customers can be funny sometimes. You do your best to keep them satisfied and how do they reward you? Well, sometimes they take their business elsewhere. The majority of customer service leaders are focused on exceeding customer's expectations. So why is the churn rate in some industries so high? Are customer service organizations focused on the wrong metrics?
At least, that's the conclusion of some business scholars writing in Harvard Business Review. The authors, Matthew Dixon, Karen Freeman, and Nicholas Toman, in their article "Stop Trying to Delight Your Customers," conclude that, while 80% of customer service organizations use customer satisfaction (CSAT) scores to gauge success, they may, in fact, be focusing on the wrong metric. Customer service apparently has little to do with loyalty. But it has everything to do with disloyalty.
Despite customer service executives' good intentions, the authors' study reveals that 84% of customers leave their interactions dissatisfied. Rather than fostering loyalty, more often than not (four times more, or much more than customer service leaders would like to admit) customer service interactions breed dissatisfaction.
The Most Satisfied Disloyal Customers Money Can Buy
So, if trying really hard to exceed customer's expectations doesn't make them raving fans, what does keep them coming back? According to Dixon, Freeman, and Toman: product quality, brand, and helping them solve their problems quickly and easily.
Instead of bending over backward to satisfy, the researchers say customer service execs should do all possible to remove the obstacles to resolving customer service issues. Make getting satisfaction easy.
Following these simple steps, the authors suggest, builds loyalty and keeps customers coming back:
Get it right the first time. Customers resent having to repeatedly contact a company to get resolution to their complaints.
Stay on track. Don't force customers to switch from one service channel to another. If you've offered to solve their problem online via self-service, don't' make them pick up the phone to finish the transaction.
Give your people the power to solve customers' problems. Nobody likes being transferred, nobody likes having to explain the same problem twice; it's a waste of time.
Turning Churn Away
There's nothing inherently bad about trying to meet customer's expectations. But, if you really want to reduce churn, the experts say, reduce the hassle customers experience when something goes wrong.
Deliver a great product. Build a brand customers can grow attached to. Then, when problems arise, if you meet them head on, they will overlook the bump in the road and come away saying to themselves, "Even, when I have a problem with this company, they fix it, and they fix it fast."
In a contact center, that means routing customer calls to the right agent from the get-go, and giving agents the tools and authority they need to keep customers happy no matter what gives them cause to call for help.