Can Your Mobile Strategy Compete Without the Cloud?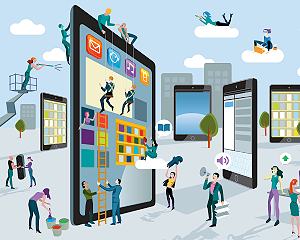 Mobile technology, in its many forms—the Internet, smartphones, ubiquitous broadband networks, airplanes, high-speed rail systems, etc.—is helping businesses expand their market reach and accelerate their rate of growth. You don't have to live in Silicon Valley to see that, but you do have to be swift in adjusting your use of mobile technology, or face the consequences of falling quickly behind your competitors that do.
In this dynamic environment, you either choose to empower your mobile and distributed workforce with the tools that enable timely and effective communications practices, or you sadly discover too late that your workforce is a collection of mavericks, shooting from the hip, rather than singing from the corporate hymn book. The fact is, the pace of change will continue to accelerate. To keep up, you need to adopt a strategy that keeps your mobile workforce informed, connected and productive. Fortunately, that goal is within reach, when you partner with cloud communications vendors that focus on a continuous communications experience, system uptime, security and global service delivery.
Don't be fooled into thinking that just because you use a smartphone and WiFi on the go, you're making the most of your mobile options. Those are table stakes. You only begin to gain an edge when you employ tools that adapt to your situation and the device(s) you have in hand. To start, that means transitioning your communications services to the cloud, rather than depending on an in-house PBX.
Your PBX Is History—So What Are You Going to Do About It?
While a modern PBX can go a long way in supporting workforce mobility, they are a relic of a bygone era, for several reasons. 
Your PBX is old, even if you just bought it today. Your vendor is already developing its replacement, which they'll be selling you on before the ink is dry on your contract. I know, you signed up for software assurance. Think about that one for a minute. You're already paying them for the upgrade before you even know what it is. It only covers software, which you know is a small piece of the overall cost. And if that vendor delivers on their real strategy, which is a solution built on a completely new architecture, well, nobody's going to know how to use it.
The real problem is, vendors know their PBX story is a sham too, because they're already developing their own cloud strategy. They're just not ready to cut the cord on their old cash cow. However, a true cloud vendor offers a service that's always up to date. Why? Because the cloud vendor is always doing upgrades. By the way, that means you don't have to.  Just be sure you choose a cloud vendor that doesn't interrupt your service just to perform an upgrade. Familiarize yourself with the upgrade process!
Redundancy/high availability conversation. They want to charge you up front to install a backup system, then you are responsible to keep it up and running 24/7, for those times that they know, from experience, that their system is going to fail. That's right.  If you want high availability, you have to buy two failure-prone PBX systems and pay for all the power, hardware, software and maintenance fees to run them both, even though you only ever use one at a time.
With the cloud, you get complete system redundancy as part of the package, or at least in theory, you should—at no extra charge. The cloud vendor is on the hook to keep both systems up and running, and you just use the service. Be sure you look at their uptime report statistics. Don't read the hype. Read the reports, with details about outages, length of time and frequency. If those details are not accessible, that's your first cue to look elsewhere.
Security and business application integration, such as your CRM service, email and directory services, are critical. Then there are all the other pieces like conferencing, especially video conferencing, and presence and instant messaging, and even contact center systems. In most cases, your IT team is tasked with managing a whole slew of vendors to bring all these systems together. Then they face the burden of securing all these separate systems from an ever-increasing onslaught of attackers. And there's the challenge of keeping everything up to date and interoperable—never a small feat.
Cloud for the Win
The cloud alternative offers a much lighter journey. If you pick a vendor that provides a rich, bundled service set, where you can pick the services you need and security and CRM integrations are offered off-the-shelf, your world becomes a nicer place in a hurry.  And because your services are in the cloud, they can be accessed from wherever you have network connectivity, from the device of your choice.
In the cloud, when you place a business call from your phone, the caller will see your business phone number, but not your mobile phone number. That's important because, when they call you back, you want them calling your business number; you don't want to be giving out your mobile number. You handle chat and voicemail the same way. One number, one voicemail box, one enterprise communications service in the cloud.
Fortunately, the world I've just described is a real place that over 40,000 businesses in more than 100 countries are using every day. Welcome to the 8x8 cloud! Let's talk.