8x8 Call Center Software and Hosted VoIP Phone Service Help Businesses Weather the Storm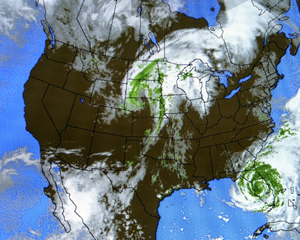 "With Nor'easters, having the ability to work from home is a blessing for our call center. During one of the storms, a lot of our staff was without power, so I opened my home as a temporary call center. With the use of cell phones and PCs, we were able to support our business needs. I had the wood-burning stove going and served coffee. Our clients were happy, my staff was warm, and we were set to go. Technology is great!"

You have to admire the spirit and tenacity of anyone who, like Mara and her team, not only rides out a storm in style, but still manages to get something meaningful done.
And Mara's right, technology is great, especially when it helps people stay safe, warm, connected and even productive, no matter what's going on around them. She is just one of many customers who tell us that they use 8x8's cloud-based VoIP phone service or 8x8's call center software to help respond to disasters and harsh weather in their area.
For example, some 8x8 customers saw Sandy coming in enough time—just barely—to literally weather that storm well. Rockville, Maryland-based Preferred Computing Resources (PCR Educator), a leader in the school information systems and databases market, became an 8x8 hosted VoIP customer just in the nick of time. Days before Hurricane Sandy hit, CEO Tom deBettencourt and his team decided it was time to get rid of the PBX phone system they had sitting in the closet and move to a 100 percent web-based telephony environment.
8x8 helped to set the company up AFTER the storm was literally on the radar, and that meant they could keep their business running. Just goes to show—sometimes it's not too late, even when it feels that way. In this case, 8x8 business VoIP phone service was activated just in the nick of time, and a hosted PBX took the place of an old regular one.
"With the threat of Sandy upon us, we didn't want our business to suffer as a result of storm damage that could disable our PBX equipment," said deBettencourt. "We are now not tied to any one device with our 8x8 service, not even desk phones, as we are all using PCs and iPhones for our business communications. We've also been able to add valuable features, like after hours emergency ring groups, to improve customer responsiveness."
So how can 8x8 customers still be up and running when other services aren't? The advantage of 8x8's cloud-based services is that they're distributed, with back-up servers and networks based on both coasts. In the event of a problem in the East, the West Coast servers and networks can take over, so business doesn't have to come to a standstill as employees are stranded and local networks taken out. And when disaster strikes even a very large area, as Sandy did last year—and as the approaching Nor'easter threatens—our customers know they're backed by patented, redundant technology that helps them to communicate wherever they are, even under very harsh, challenging conditions.