A Complete Guide to Video Conferencing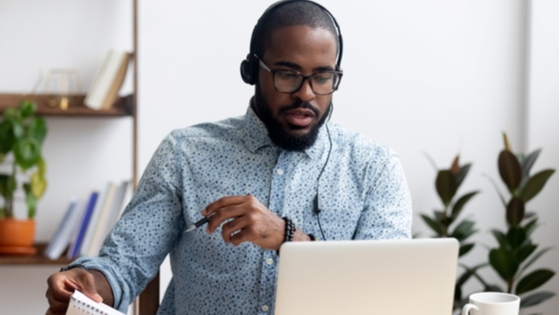 In less than 50 years, video communication has gone from a $20,000 capital expense to a free service. Video conferencing has been an important factor in changing the way we conduct business today.
The idea of video conferencing is a little more than a century old, but the technology behind it is still emerging. The word "video" wasn't used until 1935. Instead, "telephonoscope" was the common term for the technology that became popular after the introduction of the telephone. "Visual radio" or "sight-sound television system" were common synonyms before the 1930s. Videotelephony, which referred to the transmission of video through telephone channels, is an archaic term today. Both the terms "video calling" and "conferencing" come from "videotelephony."
Video calling refers to everyday communication, such as when you call a friend on Skype. The word "conference" is used when talking about workplace calls. Group calls, scheduling, and recording features are typically used in conferences and are also available in video chat. The apps designed for work offer more robust tools for larger groups.
Enterprises were the first to adopt video calling technology, followed by law firms and the military. Earlier machines were not viable for personal use but were more convenient in enterprise contexts. This saved companies money on travel and reduced commute times. Businesses could use video conferencing as an alternative to face-to-face meetings, particularly when meetings had to take place frequently.
The History of Video Conferencing
The story of video conferencing is interesting and well-documented. It all started in the 1870s when the telephone was first invented. In theory, one could send images over wired lines like audio.
Alexander Graham Bell prophesized that "the day would come when the man at the telephone would be able to see the distant person to whom he was speaking." But the interest soon faded, then peaked again with the invention of the television. John Baird first demoed the TV set and later made many attempts at video calling between 1920 and 1930.
The first signs of success came from Bell Labs at AT&T with their first attempt at video calling in 1927. The Commerce Secretary at the time tested it by calling New York from Washington, D.C.
It wasn't until 1956, however, that Bell Labs would demo their prototype, dubbed the "Picturephone," and make the first video call. This device sent black and white images at 30 frames per second (fps), and calls could last up to 10 minutes. The Picturephone was commercially launched in 1964. It was a marvel but a commercial failure. The device was challenging to set up and use. Usage costs were too high and the call quality wasn't high enough yet. AT&T tried installing video call booths that connected NYC, Washington, and Chicago, but hardly anyone used the Picturephone, even though it was a popular innovation at conventions.
Despite the failure, the tech wasn't about to die out. The '80s and '90s were the perfect time for it to blossom, and many companies attempted to fine-tune the design. One significant release was CLI T1 by AT&T competitor Compression Labs in 1982. However, the hardware was bulky and took up an entire room. Plus, it cost $250,000 to set up and another $1,000 per hour of use.
Telecom companies such as AT&T launched the first viable solutions in the '90s. For the first time, you could make video calls at a rate regular people could afford. These video calls were possible because of the fast adoption of the internet. Sir Tim Berners-Lee invented the internet in 1989 at CERN (European Organization for Nuclear Research) and publicly released it in 1991.
Once the web came out of CERN, it spread like wildfire. Soon, communication started becoming more and more PC-based. The CU-SeeMe, a project by the IT department at Cornell University, quickly followed the launch of the world wide web. It showed that video calling could be high quality and free.
How Video Calling Shaped Modern Business
Today, the benefits of video conferencing aren't limited to upper management. Companies around the world are becoming more and more receptive to the concept of remote work.
Telecommuting has fast become a trend. 70% of professionals work remotely at least once a week and 53% do so for more than half of the week. Projections show that the numbers are likely to grow in the future.
The benefits of remote work are becoming more apparent. It saves cost and time for everyone. It's better for the environment. It also has far-reaching implications from office real estate to global collaboration. Remote work necessitates a proper video conferencing set-up.
Benefits of Video Conferencing
Working in an enterprise of any size involves the use of different communications software such as email and instant messaging. It can easily get tiresome to switch between these different media to communicate. It also makes keeping track of shared files a headache.
It might sound inconvenient to add another app for conferencing. But what if you could integrate all the functions you need, from file sharing to group chats, into one smooth workflow?
That's what a modern video conferencing service does. There are many other benefits to adopting one.
1. Reduced Time and Cost of Commuting
This is the factor that first popularized video conferencing. With video conferencing, you can now do everything from making critical business decisions to hiring remotely. The tech is accessible by all users around the globe and not only by the internal team.
Even within the same premises, an employee can communicate with a colleague on a different floor. To put it in context, let's picture an IT personnel fixing your computer or equipment issues from a separate part of the building. A stitch in time saves nine, as they say.
2. Increased Team Productivity
Employees can communicate internally using video conferencing. The communication is instantaneous without participants even leaving their seats. Videoconferencing provides a new channel for collaboration. Teams are more efficient and productive because of it. Employees can now get their inputs from different departments faster, reducing the cycle times for most activities.
3. Organized and More Impactful Discussions
Before video conferencing, communication took place over phone and emails. It was a challenge to go back and refer to these messages. You had to first find the right thread and then go through each message to find the information you needed.
Phone calls don't have the same impact as face-to-face conversations. It is easy to misunderstand someone on the phone, as people also communicate through gestures and expressions and not just voice. This is why making a sales pitch over the phone may not get you the results you expect. A video conference is the closest you can get to a physical meeting if the latter is not possible. When you pitch something through video, you leverage the human element. This makes it easier to leave a lasting impression on the client.
4. Everyone on the Same Page
Information dissemination would take time without video calling. If you need to update, say, 10 people about a new product release and you have to talk to them one by one, the redundancy would be unproductive and tiring. If there are questions about the update, for example, email may not be a good avenue for a back-and-forth discussion. The written word can easily be misunderstood and participants can accidentally get left out of discussion threads.
Everyone can attend a video conference at the same time. It is independent of the participants' location. Discussions take place in real-time and people who cannot make it can view the recording later. Video conferences provide a way to have short, productive meetings. This way, meetings no longer have to take the blame for killing productivity.
5. Improved Employee Retention
Remote workers can have problems identifying with the company. They're working off-site, making it easy to feel left out. This is not healthy and can lead to employee churn. You can use video conferencing to make remote employees feel like a part of the family.
With video conferencing, you can provide instructions and help the employee who's not in the office can still get work done. Plus, teams at different locations can communicate with each other and share a bond.
6. Competitive Advantage
Technology, including video conferencing, drives businesses today. The experts have reimagined the way business is done to suit our times. Their ideas, such as remote work and agile software development, are fueled by technology and would be very difficult to pull off without it. Companies adopt these modern work strategies to stay competitive. Staying on top of them is a necessary part of progress.
7. Reduced Carbon Footprint
Environmental friendliness is both a necessity and a trend. Managers realize that remote work reduces the negative environmental effects of the daily commute. This means less fuel consumption and emissions. Video calling also minimizes the need for real estate, reducing congestion in densely populated areas.
Video Conferencing Equipment and Tools
To reap the benefits mentioned above, you need a video conferencing system set up. Your video conferencing room could be an unused meeting room on the company's premises. Any room is suitable as long as it can access the internet and has power outlets.
To get started, you will need the following tools and equipment.
Display
Conferences can involve many remote participants. To see them all, you must have a good display, which will also come in handy when you need to share your screen. Individuals can use their computers' screens. But for meeting rooms, use television screens or projectors.
The size of the display will depend on the size of the room. Remember, you can also use the display for presentations and briefings when required. If you use screen sharing or need a computer window open, go for twin displays.
Camera
So you have the best conversations, get a high-definition camera. For remote workers, the built-in cameras on their phones or laptops will suffice.
Smartphone
You can access the system that you have set up through a smartphone app. A dedicated phone for this purpose is a good idea. You can use it for navigation, camera operation, and other essential functions.
Microphones
You need microphones to capture the sound. For groups, the built-in mic in your device (laptop or smartphone) might not suffice. In such cases, go for centrally located mics. Individuals can also opt for external mics.
Speakers
You can go with the internal speakers of your device. For better results, upgrade to an external speaker or quality headphones. Specialized conference phones will give you a better experience with a clear sound.
App-Based Video Conferencing Solutions
Many modern offices have a hybrid work environment that mixes remote employees with on-premise ones. They may even work with teams split geographically. Video conferencing apps serve as a necessary collaboration tool for such teams.
You might also need to connect with someone on the go, such as someone out in the field or away for a meeting. In that case, your video conferencing solution should be easily accessible on mobile.
To successfully use smartphone apps for video conferencing, here are some essentials to consider:
Codec
Codec is the hardware or software-based technology used for encryption and compression. Video and voice codecs make use of a software algorithm to encode the source voice and video captured from a microphone and video camera. The software then transmits this encoded data to other devices participating in the video conference.
The codecs, however, require specialized or general-purpose hardware to run. Most smartphones today include hardware to support video codecs. Alternatively, dedicated video conferencing hardware also comes with codecs. You should also look for systems that provide end-to-end encryption. Plus, it's convenient to have a plug-and-play device so you do not have to install the software for the codec.
Network
A broadband connection will provide enough speed for video conferencing. A cellular network will be enough for individuals, which, in most cases, is usable for video conferencing.
How Video Conferencing Works
Video conferencing has come a long way from the black and white images sent over telephone lines. The technology behind it has evolved over the years into the system that we use today.
The basic components, though, remain the same, the core idea being the effective transmission of video from one point to another. The transmission happens so fast that it's almost simultaneous.
Video Capturing
The video your device camera or webcam captures takes the form of quick sequences of images. You might need high-resolution cameras for conference rooms. Individual mobile devices may have low-resolution and low-fps cameras.
The audiovisuals you capture are in analog form. The video conferencing software converts them into digital information before the broadcast.
Video Compression and Encoding
The digital file is now compressed and encoded by the software. Sending the feed without compression would take up too much bandwidth. The codecs compress the signal and divide it into packets, which can now be transmitted over the internet. In several cases, these packets follow end-to-end encryption to enable privacy and security.
The compression ratio is a factor that determines the video quality. A compression ratio of 100:1 provides a more fluid viewing experience than lower compression ratios, such as 5:1. The compression ratio for video conferencing is usually between 13:1 and 17:1.
Video Transmission
The software uses internet protocols to send the digital file in the form of packets. Keep in mind that slow internet speed can result in bottlenecks, which can affect video transmission. But with modern internet networks, this process is usually smooth. It takes less than a second, and the lag is hardly visible.
Video Reception and Decoding
The software uses codecs to decode and decompress the data it receives. It then converts it back to analog for viewing. Your feed is now ready.
Video Display
The stream that you watch goes through several filters to enhance the quality. The software removes echo and hissing from the sound. It also keeps the audio and video in sync.
The technology today is far better than the technology available 10 years ago. Video conferencing has become a smooth experience that does not require much technical knowledge. For conferences between multiple devices, the system uses scalable video coding to optimize the transmission. This means a device with a lower resolution will get a file that is smaller in size.
Video Conferencing and Unified Communications
Business communication uses many mediums, such as email, chat and voice calls. UCaaS or unified communications as a service brings all these mediums together in one cloud-based platform that uses voice over internet protocol (VoIP). Combining video conferencing with other communication mediums through UCaaS makes it an even more powerful tool.
UCaaS addresses the need for collaboration. Even better, you can deploy it within minutes. It is easy to adapt to any business environment. The cost of implementation is cheaper when compared to multiple, standalone systems. Your remote team members and local employees all get access to the same system.
Most businesses use customer relationship management (CRM) tools. UCaaS integrates with CRM. From the same interface, you can manage and update vital customer and sales data. There's noo need to open multiple tabs and tools to get things done.
Many companies favor UCaaS over disparate solutions. It is user-friendly and can adapt to your changing needs. Moreover, UCaaS is cloud-based, which many modern companies prefer integrated systems over on-premise solutions because of better security and cost. Premium cloud-based solutions are also available for enterprises.
Conclusion: The Future of Video Conferencing
Every stakeholder in the video conferencing scene is talking about reliability and affordability. Better connectivity will improve accessibility. Hardware improvements will ease the minor drawbacks in speed and reliability. But the future, as shown by researchers, is different. The next big step in video conferencing is going to be 3D conferences and mixed reality.
But there's another challenge. About 19 million Americans still don't have access to decent network speeds. The number is even worse, globally. Reaching these people is necessary, as they can possibly be part of many companies' teams soon. At the same time, the existing workforce also demands innovation.
Future employees may opt to live in quieter environments, in places away from the metros. Some will be frequent travelers. Remember that the tech-centric generation is idea-driven, always in pursuit of change. And to work with this segment of the population, businesses must equip themselves with the right technology and tools.
Technology can let you access various tools and equipment within your business. For example, integration with IoT (internet of things) will let you remotely manage thermostats, various sensors, and smart locks. The advancements in virtual or augmented reality may even end the need for displays. This will change the way we attend conferences, just like video calling changed enterprise communication.
When it comes to VoIP, 8x8 provides a reliable and compliant cloud solution at a demanding level rarely seen by other cloud providers. Don't take your chances with a subpar cloud-based telecom system. Call 1-866-879-8647 or fill out an online form to request a no-obligation quote from an 8x8 product specialist.