​5 Ways the Cloud Accelerates Your Phone System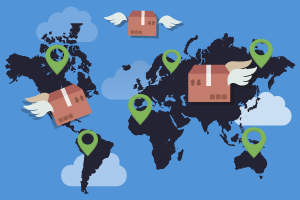 Does the thought of moving tons of phone-system PBX hardware make you want to change careers? Do you feel like you've met everybody in your phone provider's customer service department? Or is your company opening up new offices left and right, turning the time it takes to get new phone service into a critical-path item?
You're not alone. Transitioning to a new business phone system or contact center can be frustrating and time-consuming. "Premises-based call centers fail to meet delivery dates and budget requirements about 55% of the time," explains Heather Donnelly, a consultant who has set up successful national contact centers and other business communications systems. "They're also expensive to customize and maintain."
That's why Donnelly says cloud communications can save the day when it's vital to establish communications—phones, virtual meetings or contact centers—quickly and inexpensively. There's no wiring to move, no programming and no large capital outlays.
When moving to a new phone system is absolutely time-critical, here's how cloud phone systems shine:
1. Moving to a New Location
Moving is already a hassle, but finding out your old on-site PBX can't transfer to the new location creates major problems. This was the case for 8x8 cloud communications customer CST Industries. While in the process of moving its corporate headquarters to a new location, CST discovered a week before the move that its existing telephone system could not migrate to the new site. With only a few days to solve the problem, CST selected 8x8 for its phone system at the new location and got the phones installed on time.
Choosing a phone provider that stores all of your company's information using cloud-based technology can also simplify the moving process. When the company moves, all you have to do is plug in your phones and connect to the internet to reach your information. 8x8 customer Yew Chung International School loved this aspect of cloud communications when moving to a different location, and needless to say, the amount of money it saved!
"With 8x8, everything's in the cloud—so all you need is an Internet connection. When we got to the new location, all we had to do was plug in our phones! 8x8 saved us a substantial sum just on the move alone," says Diana Hsien, YCIS parent volunteer.
2. Growing Like Gangbusters
Quick deployment from cloud phone systems is a lifesaver for rapidly growing companies. When companies need a phone system to be the first thing installed at a new location, they need a provider that won't slow down the moving process. For example, 8x8 customer Learn4Life, required fast deployment while continuously opening up charter schools in Southern California neighborhoods in need of untraditional learning centers.
"Imagine having 25 kids waiting and you can't open their school because your phone system isn't working!" remarks Skip Hansen, Senior Vice President at Learn4Life. "With 8x8, our phones and routers are pre-configured and ready to go. We've been able to open new resource centers much faster. With our previous VoIP provider, deployment would typically take six to seven weeks. Our staff was constantly overwhelmed."
3. Need to Unify Global Offices in Record Time
Managing several locations is complicated enough, without your phone system adding to the mess. Juggling multiple PBXs or handling different phone systems at each location, only makes things harder on your business and your phone bill. Global cloud communications can help companies unify all their locations (no matter where they are in the world) with one phone system—and does so quickly and efficiently.
That was the experience of 8x8 customer Rubicon Project, which unified its nine locations around the world in a matter of weeks. Within five days, the company completed its domestic rollout in five US locations. In three weeks, it had installed 8x8's phone system to its four out-of-country locations, and became unified worldwide.
"We had a very aggressive schedule because we wanted to complete our implementation by the end of 2013," said Tim McQuillen, Chief Knowledge Officer of Rubicon Project. "8x8 made a number of promises to us, and kept every single one of them. Without 8x8's support, we would not have been able to deliver this project on time."
4. When You Needed It—Like Yesterday
When an emergency arises or you are working on a tight deadline, the last thing you want to worry about is configuring a difficult, expensive phone system. 8x8 reduces the stress by providing a reliable phone system that fits with your company's budget and deadline. That's why consultant Heather Donnelly recommended 8x8 cloud-based customer contact center software for Outreach Process Partners (OPP) in its efforts to implement the EPA's Safe Drinking Water Hotline—in less than three weeks. Donnelly knew that to meet such a tight deadline, OPP needed to implement a cloud-based, VoIP call center solution, and chose 8x8 to get the job done.
5. When Disaster Strikes
When big storms hit, you can expect outages and other complications from premises-based PBXs. But with cloud communications, your phone system is not tied to one location. When bad weather keeps you out of the office for a few days, you can simply plug in your desk phone at home or use a softphone, and continue working remotely as if you are in the office.
8x8's built-in disaster resilience was the perfect solution for businesses when Hurricane Sandy hit the East Coast in 2012. Rockville, Maryland-based Preferred Computing Resources (PCR Educator) made the switch to 8x8—just in the nick of time.
"With the threat of Sandy upon us, we didn't want our business to suffer as a result of storm damage that could disable our PBX equipment," said Tom deBettencourt, PCR Educator CEO. "We are now not tied to any one device with our 8x8 service, not even desk phones, as we are all using PCs and iPhones for our business communications. We've also been able to add valuable features, like after-hours emergency ring groups, to improve customer responsiveness."
Pick a Solution with Built-in Easy Deployment
In all of these situations, 8x8 helps companies improve their communications with fast, efficient and advanced cloud-based phone systems and contact center solutions. This all stems from 8x8's commitment to providing the best service to customers, regardless of the situation.
"8x8 cloud communications solutions can quickly unify distributed organizations across the country, or around the world, because ease of deployment is built into our solutions," says 8x8 CEO Vik Verma. "Our deep industry experience in providing unified communications for tens of thousands of companies means we can confidently meet even the most ambitious time frames for our customers."