Call Centre as a Service (CCaaS)
Call Centre as a Service or Contact Centre as a Service (CCaaS) utilizes Voice Over Internet Protocol (VOIP) technology to deliver inbound and outbound calling capabilities. Inbound call handling routes queries to agents for numerous customer care needs, including but not limited to technical support and customer service requests. Outbound call centres are equipped to support a large volume of simultaneous phone calls as part of outreach and telesales efforts. CCaaS technology utilizes Computer Telephony Integration (CTI) to incorporate multichannel and omnichannel capabilities, integrating a cloud-based call centre with chat, text, and social media features.
Cloud Contact Centre  Virtual Contact Centre Plans  ContactNow Plans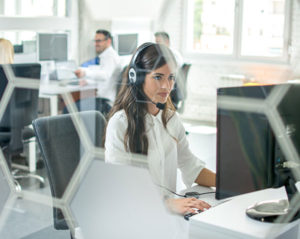 The Modern Contact Centre
A modern contact centre handles inbound and outbound calls while initiating customer interactions on their channel of choice. With 8x8, your contact centre is instantly scalable, and agent performance is detailed across a host of metrics accessible in an instant on your desktop or personalized iOS mobile app. This combination of omnichannel capabilities and contact centre management is underpinned by our industry-leading security protocols and data protection. A call centre is an investment in customer experience solutions. 8x8's CCaaS technology turns that investment into value added.
---
Call Centre Management
8x8 delivers real time analytics to power call centre agent performance and enhance your customer service capabilities. Reduce wait times, boost workforce optimization, and follow all customer inquiries. Your Virtual Contact Centre comes fully equipped with an array of management features that keep you connected to every call, every time.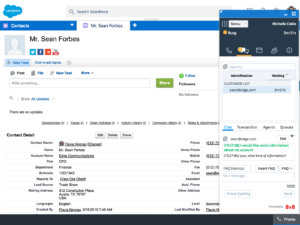 Agent Console
Using 8x8's Agent console, call centre agents can serve customers across all channels from one screen. The easy-to-learn interface comes with a communications hub where they chat with other agents and supervisors, eliminating information bottlenecks before they appear. From the same screen, agents can access a keyword searchable FAQ database and even screen share with different customer relationship management (CRM) or back end systems. That's one console, across multiple channels, available anywhere you can have an internet connection.
Expert Connect
Connect agents to experts with the answers using 8x8's shared presence, chat, click-to-call dialing and easy transfers. No finicky phone numbers or long wait times required – we understand that when issues arise, lightning-fast first contact resolution is the best way to ensure satisfaction. Once the expert is engaged, the agent can either transfer the customer or conference the expert into the call, ensuring the customer's problem is solved quickly and efficiently.
Workforce Optimization
8x8's call centre software includes agent supervision tools like call whispering, historical performance tracking, and intelligent scheduling. Coach agents on live calls through whisper, listen, and barge features, or follow up later using our smart call recording. Create individual agent performance plans and track performance with our easy-to-use color coding to see who is meeting and surpassing goals. Intelligent scheduling features help you adjust schedules quickly and get remote teams online in minutes as real-world challenges arise — that's workforce management that makes a difference.
Learn More About Workforce Optimization Features →
---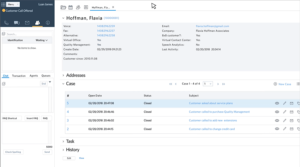 Customer Relationship Management
A multi-channel contact centre operates with customer needs at its core. 8x8's CCaaS solutions are built on reliable cloud services that span every channel of customer interaction. Customers can initiate contact via social media, be directed to a web contact form, receive a text message to schedule a call, and connect immediately with the available agent most qualified to answer their question.
8x8 supports comprehensive CRM integration with Salesforce, NetSuite, Microsoft Dynamics, and Zendesk. Our integrations let you place calls directly from your preferred CRM and log customer interactions automatically. When co-browsing or using our real-time web page assistance feature, agents can access CRM data in an instant with 8x8's CTI screen. End user data will appear on the agent screen, providing context and saving valuable agent and customer time.
---
Information Privacy and Security
8x8 is certified as fully FISMA/NIST 800-53 compliant, being a superset of FedRAMP and SOC II Types I and II, GLBA and FFIEC and other compliance standards. FISMA and NIST are considered to be the most thorough, intensive form of compliance Worldwide, and can only be achieved in private industry via a corporate GRC culture, governed with sanctions, monitoring, and continuous training.
With 8x8's information privacy protocols, call centre supervisors can mark data entry fields that contain sensitive customer information. Once protected, only the customer will be able to see the information in question – agents will only see asterisks. 8x8 ensures that sensitive data like social security numbers and credit cards stay protected. We know that when customer information stays secure, you rest easier too.
Learn More About Information Privacy and Security →
---
Global Reach
8x8's global network of data centres include five locations in North America, four in Europe, as well as centres in India, China, and Brazil. Our patented geo-routing sends calls to the nearest data centre, so customers experience crystal clarity with none of the lag time or voice delays that can derail international conversations.
See ALL your operations at a glance, across every communication channel with easy-to-read dashboards, analytics, and reports. Drill down into your data for local insights, configure and manage routing rules, IVR scripts—even CRM integrations—from the same configuration environment for the entire global system.
Automatic translation eliminates one of the biggest hurdles to providing great customer support everywhere you operate. Customers can send chats that are automatically translated into your agents' own language, and vice versa, for quicker, easier interactions.
No language barriers, no problems with your call connection, built in data management — the only thing we can't solve is the jet lag.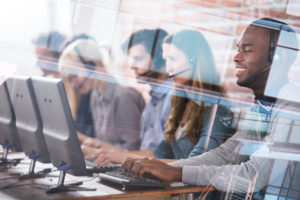 The Modern Contact Centre
Eighteen. That's the number of communications vendors the average contact centre has to manage.* With 8x8 you can ditch the patchwork and enjoy one unified solution that fits your business process with a suite of collaboration and management tools built to power growth.
*Source: CCNG Survey
Learn More About Call Centre Software Technology →
8x8 Virtual Contact Centre
The 8x8 Virtual Contact Centre is the enterprise cloud-based contact centre solution complete with outbound call centre, inbound call centre, and hybrid capabilities. It comes loaded with a full suite of features including self-service and guided interactive voice response, speech recognition, proactive chat, automatic call distribution (ACD), and skills based routing. Maximizing customer communications has never been simpler.
Learn More About Virtual Contact Centre →
ContactNow Contact Centre
ContactNow puts game-changing contact centre technology at your fingertips in a matter of minutes. ContactNow will transform your small business with inbound and outbound calling, predictive dialer capabilities, and broadcast dialing from one phone number. Route calls anywhere, anytime from your custom dashboard and monitor customer satisfaction in real-time with a host of reports. ContactNow is designed for small business needs.
Gartner Magic Quadrant Leader
8x8 is a seven-time Gartner Magic Quadrant Leader in Unified Communications as a Service (UCaas).
Read More About Gartner Magic Quadrant →
Unified Communications Technology
8x8's cloud contact centre software is built on our expertise in a host of related technologies like VOIP, private branch exchange (PBX), IP telephony, video conferencing and more. Learn how we embrace new technology and turn possibility into results.
Understand Your ROI
With 8x8, you get the high availability your contact centre deserves—and your customers expect. And with no hardware, software or CapEx, you can realize savings of 50% or more across your contact centre operations.
Additional Resources
Learn More In Customer Stories →