Earn an extra $150 with 8x8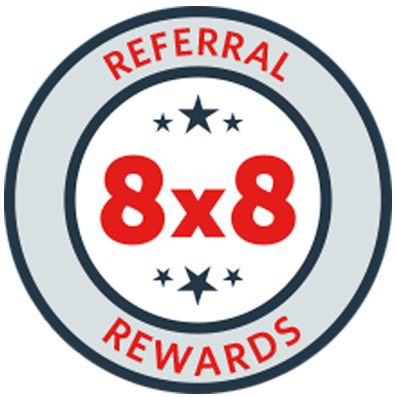 Bonus rewards when you refer to 8x8
This special offer is for new 8x8 Referral Rewards members.
For a limited time, new Referral Rewards partners will earn $150 in addition to their standard commission when they refer someone who signs up with 8x8.
Sign up, and refer, for $150 plus $25 per line for the first two lines and $100 per line for three or more.
This offer is only valid through December 31, 2018. It's free to join 8x8 Referral Rewards, sign up today!
Terms and Conditions:
NEW Referral Partners must have registered in the 8x8 Referral Program between December 1, 2018 and December 31, 2018.
Lead must be sent between December 1, 2018 and December 31, 2018.
Lead must close between December 1, 2018 and closed by January 15, 2019.
This is a one-time payment of $150 USD is paid in addition to existing 8x8 Referral Program commission.
Partners registered for the 8x8 Referral Program before December 1, 2018 do not qualify.
Payment terms are the same as the existing Referral Program.
Lead must purchase from 8x8 direct.
May not be combined with any other offers or promotions.
A valid W-9 must be on file by December 31, 2018 to qualify.
See all Partner Referral Terms & Conditions here.
Updated December 1, 2018