vs.


vs.

+ Phone System
8x8 delivers UCaaS to 1M+ users across 100k businesses in 100+ countries. We've been continuously developing our UCaaS platform for 20 years. We deliver VoIP that customers bet their businesses on.
read more
1. A track record of success in UCaaS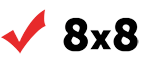 MS Phone System is Microsoft's seventh attempt at enterprise telephony, starting with Live Communications Server in 2003. None of these prior attempts have had much success. So do you really want to bet your company's voice needs by going with try #7?
read more
8x8's UCaaS includes SIP trunking, calling plans, and related internetworking. And 8x8 manages the overall QoS.
So you have one contract for the entire solution, and one "throat to choke" for voice, video, and contact center.
read more
2. Lets customers get out of the "BYON" enterprise comms networking business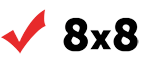 MS Phone System lacks PSTN connectivity, so customers also need either to purchase MS Calling Plan (see #3 below) or use MS Direct Routing to interconnect with another purchased service to get that connectivity. Also, MS Phone System usually requires customers to purchase, and manage internet service enhancements.
read more
8x8 bundles in calling plans, from 14-country unlimited calling in our X2 offer, to 47-country unlimited calling in X4 and above.
read more
3. Gives customers a calling plan with breadth and value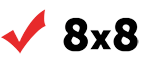 MS Calling Plan is expensive, inflexible, and a poor value. "Domestic" costs $12, and "International" costs $24 but only spans 10 countries. Neither receive much discounting. Customers learn quickly that there are many more cost-effective options than the MS Calling Plan.
read more
8x8 offers a 99.99% uptime SLA, and it covers the entire call path end-to-end. And 8x8 has the broadest and most up-to-date set of security certifications in the UCaaS industry.
read more
4. Meaningful SLA and security certifications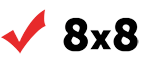 MS Phone System offers a 99.9% SLA, but MS adds caveats that make it essentially meaningless (only for desk phones with hardwired ethernet, etc.). And Phone System has no known security certifications.
read more
8x8 integrated offerings of voice, video, and contact center allow us to give customers a single, coherent dataset of usage and quality reporting, to deliver a single system of record for your entire communication and collaboration stack.
read more
5. A single system of record across UCaaS and CCaaS, for better reporting, management, and analytics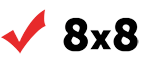 MS Phone System and the broader MS communications stack doesn't include contact center, so a separate CC implementation won't share Phone System's database of usage and quality. And MS's video is limited so many customer choose a 3rd party VCaaS solution, which again won't share Phone System's usage and QoS database and related analytics.
read more
Learn more about 8x8's business video conference, VoIP, and PBX services. Call 1-888-331-9194 or fill out the form below to get a quote: