9 Reasons Why 8x8 is Better for Unified Communications than Cisco
---
The 8 Criteria for Enterprise-Grade Communications as a Service
Many companies claim to offer enterprise grade communications solutions. But how is "enterprise grade" measured and what should you look for? This fact-filled white paper outlines 8 ways to determine whether or not your provider is equipped to offer an enterprise-grade communications solution.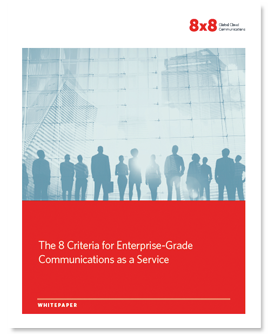 ---



---
Cloud-Based Solution

8x8's products were built from the ground up with the cloud in mind. No Hardware onsite, no software onsite, no big capital expenditure up front, just a reliable and secure solution that works day in and day out.
Cisco solutions are designed for on-premises implementations and do not lend themselves to cloud implementation. This is why their private or hybrid cloud solutions are limited in functionality or only offered through partners.
Always Up To Date, Always Strategic

With 8x8 there is no question if you are on the company's strategic platform, and you will always be on the latest version of our software. Our patented approach to upgrading works to ensure every upgrade happens seamlessly without downtime.
Automatic upgrades typically do not happen with on-premises systems like Cisco's unless software support plus upgrades are added to your maintenance contract.
Get Going Fast

With 8x8 you can get your solution up and running fast. Our average deployment times are measured in weeks, not months. You also get pre-built integrations into leading CRM systems such as SFDC, NetSuite, and Zendesk without the need for significant customization and costly professional services.
On-premises systems like Cisco's require more up front configuration and setup work than cloud offerings. Integrations to third party systems are specific to each implementation and generally require significant customization, professional services and upfront cost.
Continuous Communications with a single app

8x8 provides continuous communications anywhere and with any device to improve employees' productivity, help them provide faster answers to their customers and reduce the learning curve through the ease of use of collaboration tools.
8x8 offers an all-in-one mobile application for all your communications: voice, IM/presence, video calls, messaging and audio/web/video collaboration. You do not need to install several applications for collaborating.
Depending on release and needs. Latest releases (as of November 2015) support Jabber for Windows, for iOS and for Android devices. In addition, WebEx is an additional application required for collaboration purposes such as content-sharing, web conferencing and video conferencing. Keep in mind, the experience on each device might vary.
Simple and Cost Effective

Move your communications and contact center expenses from capital expenses to operating expenses with a simple, predictable monthly fee to cover your full costs. No maintenance, no services surprises and no huge up front cost to get your system installed and up and running.
On-premises systems such as Cisco are typically sold as license agreements with an upfront capital expense. In addition, customers may need to purchase on-premises hardware equipment and pay to support and maintain them.
Free Your IT Department
8x8 customers on average require 59% fewer IT resources to provide day to day service and support of their communications systems. This allows your IT department to increase their support for strategic efforts that help drive your business in a more profitable direction.
IT Activities across all sites
Always current with ongoing innovation
Scale up/down; pay for use
Monthly subscription fee
Single vendor, bill and management
Cisco on-premises implementations require IT support and service which need to be provided by the customer or a third party that will be paid for their support services.
IT Activities in every location
Manage in your datacenter(s)
IT staff to implement and integrate
Commonly 2+ management interfaces
Ongoing IT workload, fixes and patches
Maintenance and upgrades
Upgrade treadmill for all applications
Downtime; Performance tuning
Rewrite customizations and integrations
Plan for disaster recovery scenarios
Unknown long-term maintenance costs
Unknown scalability costs
Plans for security
Secure and Reliable

8x8 is the safest way to move your unified communications and contact center to the cloud. We will commit to an uptime of 99.99% through enhanced SLA agreements, and over the past year have delivered 99.994% uptime to our customers. With fully redundant data centers in nine locations around the world, our services are disaster resilient. And because our services are delivered via the cloud, your business can be kept up and running even if your employees can't make it to your office.
We protect customer data – we provide encrypted communications from end to end and protect private customer data. Our systems are 3rd party validated for compliance with a variety of standards including HIPAA, PCI, FISMA and FIPS. We provide BAA agreements to protect your customer data from breaches and security compromises – and protect you from fines.
Cisco's systems can be implemented on-premises in a manner that is compliant with the various security standards but it is incumbent upon the company who has the system to ensure compliance.
One Product / All Channels

8x8 provides a single development and administrative environment that puts the contact center manager in charge of a consistent experience across all channels: voice, web, chat and email. Define the customer experience in one tool and support customer interactions across all channels. Manage a single system that provides customer interactions across all channels. Provide your agents with a single, browser based desktop that works out of the box across all appropriate channels. Don't pay more for software to support additional channels.
Cisco has different contact center offerings which vary depending on your requirements, customization, scalability and budget. Check carefully to understand what is being offered with what you are buying and that it complies with your future needs.
Global Presence

8x8's Global Reach® patented geo-routing, longtime global experience and worldwide data centers improve efficiency and call quality wherever you do business. Connect locally with nine data centers around the world, and manage globally with a single system that includes agents almost anywhere in the world.
While Cisco is a significant provider of systems around the world, a hosted private cloud system would be a significant investment for any company considering worldwide contact center or communications capabilities.
---